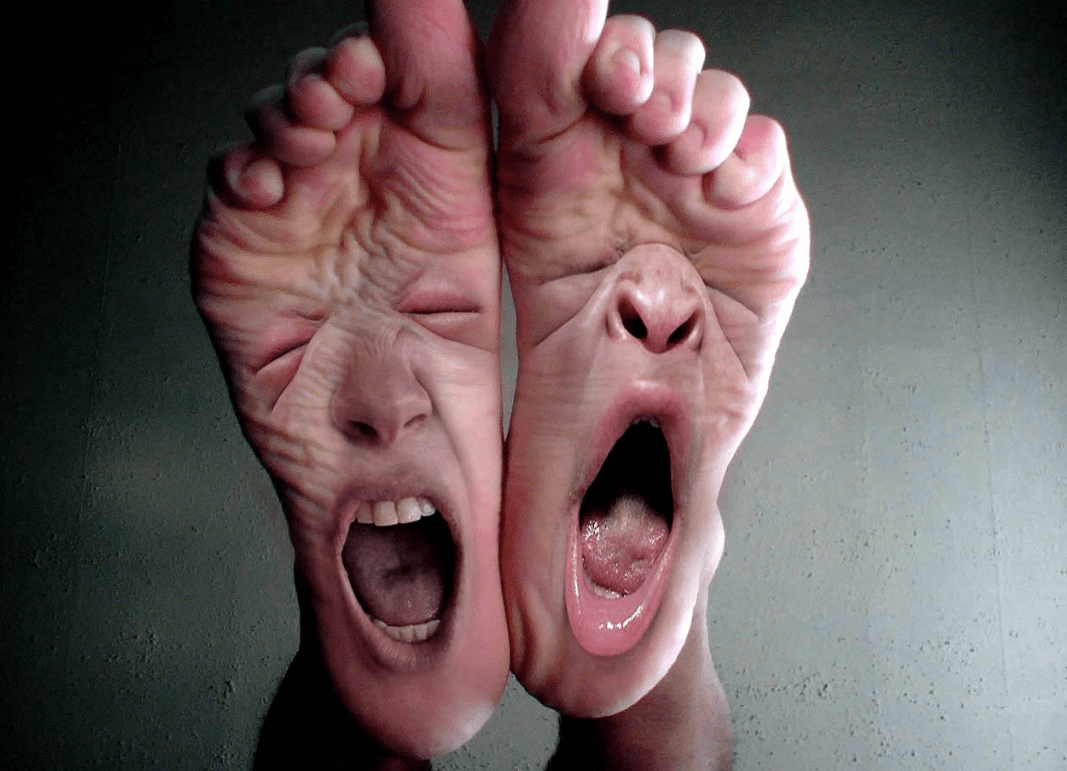 If you want to see industry in-fighting akin to question time in parliament then just ask a boot fitter for his/her favourite boot fitter. Let's just say my inbox has overheated since asking our Facebook followers for their recommended boot pros.
One thing we all agree on is that skiing or boarding with sore feet can ruin a snow trip.
Trust me, I've had my fare share of experience on this one. I had toe bang that turned my big toe nails black – they eventually fell off  while soaking in a hot tub at a swanky hotel in Melbourne, ewww, lost forever in the whirlpool, double ewwww.
I have been in such extreme pain I couldn't finish a backcountry ski tour day and ended up in the foetal position at my guide's feet. A guide who clearly thought I was faking it until I removed boots and he saw said bound Geisha style tootsies.
But I have also had my share of good boot fitters including Andy Burford from Jindabyne Sports who adjusted my boots so I felt I was skiing on a cloud and the guy at the base of Sun Valley Idaho in the Grateful Dead t-shirt with a pet pig called Priscilla who saved me from a world of hell – the guy, not the pig.
But like most people in search of ski boot Nirvana I have also had my fair share of bad including the young pup who didn't listen to me when I described my skiing style preference and gave me a comfort fit almost two sizes too big (clearly thought the only powder I liked was in sugar form poured into my latte).
Sigh, then sigh again.
In the interest of you my dear readers, I thought I would throw the boot fitting dilemma out there to four respected boot fitters and podiatrists in Australia –  Andy Filer, Paul Oberin, Ned Buckley and Katrina Bennett.
Katrina Bennett (nee Harris) podiatrist at All Round Foot Care
Before getting a new boot what do you need to know?
Are you currently carrying an injury in your feet, legs or lower back? If it's a temporary injury that is expected to heal up quickly, now isn't the time to get an accurate fit or postural assessment.
Previous injuries, chronic injuries and especially previous issues with ski boots are also a must keep in the memory bank when looking into new ski boots.
For women, being pregnant and breastfeeding (and yes it is possible to ski when pregnant) keep in mind your feet may have changed or are currently changing so not necessarily a great time to buy but possibly a fabulous time to get your existing boots adjusted to accommodate any changes.
For kids and teenagers, are the feet still growing, when was the last growth spurt, how much did they grow? I could go on and on but you get the point.
How badly do your feet feel the cold? Different materials will be warmer; layering of your socks, using feet warmers etc will all play a part.
What makes a good boot fitter?
Someone who asks all the relevant above questions! Plus how often do you ski, what's your budget, what is your ability? Does a beginner/low intermediate really need a $1000 boot for their one weekend away a year?
They must be someone who skis themselves – and is passionate. They know firsthand just how bad, bad fitting boots are and how oh so good, good fitting boots are.
You want someone who listens, adjusts, readjusts, adjusts again and has the follow-up service of readjusting if necessary after you've actually skied in them.
A good fitter will work out what type of boot is right for you, and it may not be the one you proudly show them on your iphone, as if they have never seen such a wonder in boot technology before. They will work out if you need support, can they make a footbed themselves or do think a trip to the podiatrist for orthotics or further advice is required.
How can you tell your boots are on the way out?
When they just don't feel comfy anymore. Liners will pack out, conform to poor wearing patterns, you have to keep adjusting buckles and/or you can feel your foot moving around when initiating turns. Maybe you've developed new pressure areas or old ones are worsening.
Your skiing ability or preference has changed and you need something more appropriate to what runs you are now skiing, hitting the park more or taken up racing.
Other reasons may be post pregnancy or a large weight gain/loss. These affect your foot posture and shape.
Should you be in pain when skiing from your boots?
No, never, not even in the shop, ok maybe in the shop whilst they are getting tinkered with, but do not walk out the door with them if they don't feel perfect. Then there are the unlucky few that genuinely need to ski in them to get all the information the skier and boot fitter needs.
Who needs orthotics and what do they do?
Foot orthotics are shoe inserts designed to support, align, or improve the function of the foot. They should fit comfortably inside your everyday shoes, sports shoes but not your killer 16 inch heels.
People of all ages (from walking age to dying age), with a variety of foot or lower leg problems wear orthotics. Sportspeople are often prescribed orthoses by their podiatrist to help maximise their performance, as well as to address mechanical problems.
Anyone suffering from a chronic foot or lower limb condition, which is limiting their mobility or independence, may benefit from wearing orthotics.
Orthotics provide valuable long-term solutions in the treatment and prevention of corns, callous and blisters by redistributing the pressure of the body's weight on the feet.
Orthotics also help with rehabilitation of acute and chronic foot conditions such as tendonitis, recurrent ankle sprain and stress fractures, by providing consistent postural control.
Orthotics vs Footbeds
Orthotics are for everyday dynamic movement like walking and running. Footbeds are support in your ski boots for static movement.
Orthotics are generally used in the ski boot if the client skies infrequently, they are a growing child and the orthotic fits and is comfortable; or they need more support than a custom footbed can give them.
For someone who skis a lot and the footbeds provide the appropriate support than a footbed can still be used even if you wear orthotics in day to day life. I for one, have worn orthotics for over 20 years, but prefer my footbeds in my ski boots, why? Because it works best for me!
Paul Oberin – bootfitter at Pauls Ski Shop Wodonga
Boots have undergone some significant changes in recent years, so you need a boot fitter who keeps up with developments in boot technology. Look for boot fitters who are certified by specialist associations which require boot fitters to undertake ongoing professional development.
And whatever you do, make an appointment. Boot fitting, properly done, takes time and good boot fitters can give a customer their complete attention when they have made an appointment. Really good boot fitters are not likely to just be sitting around waiting for a casual customer off the street.
Making an appointment also ensures that you get the boot fitter you seek; some shops don't like seeing a customer walk away so some customers without an appointment may end up with another, less qualified, person doing the boot fit.
Ignore your friend's advice when it comes to what boots you need, just because they have great fitting boots doesn't mean that same brand and model will work for you.
Make sure the boot fitter removes the boot liner and shell sizes you. If they don't do this, then walk out and find a shop that does – this is a basic first step in fitting a boot well.
Even the best boot fitter doesn't get the boots 100% right every time, if your new boots are not right after a day or two of use, call up the fitter and make an appointment to go back for some minor work.
Dos and don'ts
Do make sure the shop has a decent range of boot brands. Typically, some brands fit a particular foot shape or morphology. A good shop will have a decent range of boot brands to fit all common foot shapes. A shop with a limited range may not have the right kind of boots for your particular foot shape.
Do be prepared to invest some time and give feedback to get a good fit. A boot fitter relies on feedback. Whilst good boot fitters will do a specific foot assessment, and really good boot fitters will know, by experience, what boots are likely to fit best, nothing beats the feedback the customer gives the fitter.
To footbed or not to footbed?
Footbeds can be a controversial topic, but I think that everyone should have a set.
A footbed will often give you a more comfortable boot, but apart from that they stop a lot of movement within the boot. They align the foot within the boot and they also give great feedback as to how the ski or board is performing, as you have far better contact between the foot and the ski or board edges with a footbed.
Foam filled liners are a good option for some customers as it takes away any space between the foot and the inside of the shell, and is able to give a very firm high performance fit. The drawback is that the liner can only be used by the initial user and in the shell they were made for, and without the possibility of re-moulding.
For most, a better option in my opinion is the Zipfit liner which uses a filler material called Omfit. The Omfit will flow when heated to move away from any tight spot to another part of the liner where it may be loose. The Zipfit liner can be topped up at any time with more Omfit during the life of the liner.
As the Zipfit liner is good for around 400+ days it can be used in several shells during its life. It will conform to the shape of the new shell within minutes and will also conform to the shape of another foot if the boots change hands, even if for just a day.
The Intuition liner offers pretty well the same benefits as the Zipfit liner at a lower price, but has less flexibility for re-moulding and a lesser lifespan.
Edward 'Ned' Buckley – podiatrist, boot fitter, Boot Solutions Niseko/Hakuba
The pros and cons of footbeds versus liners
No matter what the foot shape is, or what the particular individual mechanics of the foot are like, foot beds can help to stabilise the foot in the boot in a way that makes the skier more comfortable and at the same time ensuring that energy is transferred evenly and efficiently. Foot beds are recommended for most skiers in most boot and liners types.
The customised ones come in the form of an innersole that starts out from a flat blank material and which is then moulded to the skier's foot. Often a reinforcement called a posting material is added to the heelcup and arch areas and then made to fit the contour of the boot in a way that ensures the foot is in a position of maximum stability for skiing.
There are multiple systems and various brands for making custom footbeds. Qualified health professionals such as sports physicians and podiatrists also make devices similar to custom foot beds, called orthoses. Custom footbeds are completely personalised devices that fit the skier's foot perfectly and so these have the potential to provide maximum support.
Custom footbed making is a highly technical process that requires the bootfitter to have sound knowledge in identifying different foot types and understanding foot mechanics as well as technical skills for producing a good mould and manufacture of an accurate device.
Most ski boots come with a liner that the manufacturer has made for that shell. Depending on model, the liners than come with the boot can be highly mouldable. In many cases the fit is very good with the liner that the boot was made for, and so in many instances skiers are extremely happy with this set up.
When looking for a liner for the ski boots, having a high capacity to mould to the foot is a desirable thing. Different after-market liners exist that are designed to replace the liners in ski boot shells, usually with the intention to provide a more moulded and hence better fit.
The most common types of liners include fully injected foam liners (Sidas, Bootdoc, Surefoot), preinjected cork and oil based (Svenfit, Zipfit) and heat mouldable foam types (intuition, Sidas). Having an aftermarket liner inserted into the pre-existing shell is not always better, however, may be a good option if the skier is looking for higher level of precision in the fit.
Usually a foot bed accompanies a moulded liner and the bootfitter will recommend foot beds to be made in conjunction with the liner moulding. There are many pros and cons for the different types of liners out there.
Fully injected foam liners provide the most accurate moulding, and hence ensure that the fit is closest to the foot shape, however, they tend to be cold and hard on the feet. The injection process is quite technical and so requires an experienced fitter to ensure that mistakes are not made in the process.
Mistakes are difficult to fix once injected as the foam sets hard. Injected liners can be expensive to have fitted and sbadly moulded foam injected liners can be a costly mistake.
Injected liners often take quite a bit of skiing in before full comfort is appreciated and so are generally not recommended for the recreational and occasional skier. Some ski shops just specialise in this type of boot/liner combo.
The guys that do a lot of them generally do a good job, however, when things don't work out, it is often very tricky to fix and the best option is to start again. Some people who regularly ski in this type of liner swear by them. Others simply cannot tolerate that level of precision in the fit. Some people are better off in this type of liner due to particular issues with their feet.
Heat moulded foam liners such as the Intuition liners are the warmest and most general in fit. The impression that the liners take of the foot is good, but not as accurate as the injected type.
As the materials are soft, there is less chance of having major problems if the right model has been chosen for the boot. These liners come in varying densities, thickness, and shape and so it is important to have the bootfitter recommend the right model for the skier's foot and boot model.
This type of liner takes the least amount of time to ski-in and can be very comfortable after only a short while skiing. These liners do well for people who don't ski a lot, or whose objective is general comfort and warmth.
A downside to this type of liner is that they generally  'pack out' more quickly than other types. Each time the person skis, the structure of the foam is put under pressure, which leads to eventual breakdown.
The cork and oil based reinjected liners are great option for people wanting a more accurate fit without the problems associated with foam injected liners. These liners tend to have most of the moldable material based around the mid-to-rear foot and on the shins, resulting in a good tight fit in the places where it is best to have maximum support whilst leaving the forefoot and toes free to spread out.
These liners are the least technical to fit and usually fully remoldable, meaning that if a mistake has been made, then the process can be repeated multiple times to get it right. This type of liner can be a little cold to ski in however and newer models are using highly insulating materials to combat this problem.
These liners have a long life-span if well cared for. More material can be added for a tighter fit and conversely it can be removed to make more space. One complaint that has surfaced with fitting these liners is that the density and amount of materials that have been preinjected is not always accurate and so the fit can vary from liner to liner.
The density of the material in these liners is also susceptible to variations in temperatue and so tends to feel softer when it is warmer.
Andy Filer – Bootfitter at The Boot Lab at Aussieskier.com
Don't waste your time trying on lots of boots at lots of shops. Do your research and preferably choose a shop that a friend has had a good experience at or one that has a good reputation.
Spend the time needed to start and finish in the one sitting, this includes choosing your boots, making your footbeds and any shell adjustments needed. Two hours is usually enough time to do this but sometimes more time is needed or you may have to return to the shop if extensive work is needed to make it the perfect fit. Remember skiing is fun get out there and enjoy it.
Work together with your bootfitter to choose the best option for your feet and skiing ability. You should always be given at least two or three options to try on. This will give you a better understanding of what they feel like from different boot shapes and styles.
The correct flex that matches your bio-mechanics, width that suits your foot shape, and what you want to do with your skiing are very important key points that any good bootfitter with knowledge and understanding of what they are doing should look at in great detail.
Choosing a boot fitter
Choose a boot fitter who has had years of experience, as only someone who has put a lot of feet into ski boots knows all the little tricks that to make your next boots the best ones you have ever had on your feet.
Anyone can fit a pair of boots, and there is a lot more to it than just the length of your foot to consider. You would hope that they ski regularly and they understand the forces that the body goes through when skiing, looking at the whole picture.
A good fifteen minute talk and assessment about what you plan to do with your skiing, looking at everything from length of your foot, to your individual bio-mechanics like dorsiflexion in your ankle, and flexibility with your lower limbs is a great start to help understand more about each person's needs for skiing before trying on a ski boot at all.
A good boot fitter knows everything there is to know about the boots, but his challenge is getting to know the customer and what their needs are to help make the correct choice so they can enjoy their skiing for many years to come.
Skiers put their bodies through enormous physical strains when skiing and we should all remember that fitness along with fit plays a big factor when we go skiing in the mountains. So giving your body a chance to get its ski legs or being in a good physical condition is important to be able to ski with less fatigue and discomfort when skiing.
Simply having a bad technique or leaning back can cause excessive pressure on your muscles and skeletal system so much, it won't matter how good your boot fitter is or your boots, and may be time to take a lesson to improve your style.
A good boot fitter should be putting you in a shell that has room for adjustment if any fit issues occur, allowing them to elevate any pain or discomfort that may come up after you have left the store with your new boots.
Follow us on Facebook, Twitter and Instagram