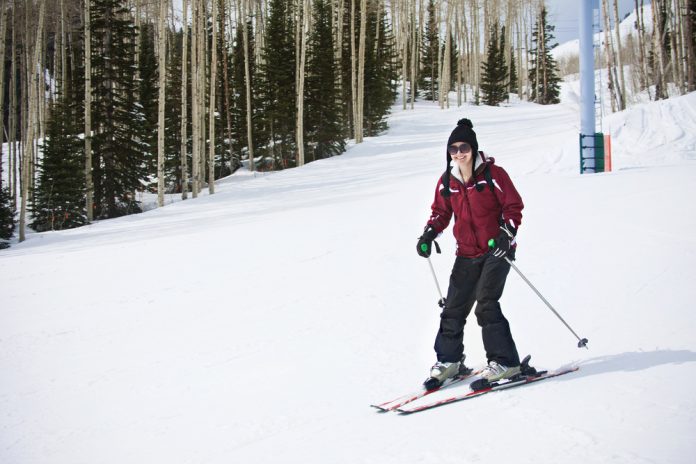 Having been a ski instructor for a long time, I have observed many women anxiously approach skiing and experience fear even on the gentlest of slopes. This display of apprehension is more than common and while it does occur in both sexes, it appears, to me, more prevalent in women.
There is, as it turns out, a scientific basis behind this. Our cognitive approach to skiing may be strongly influenced by the portion of our brain called the Amygdala which processes feelings of fear and pleasure. The Amygdala is a small grape sized structure found in our mid brain which releases the hormone serotonin and influences sensory processes, cognition, emotion, motor activity, sleep and appetite. The Amygdala is involved in fear learning, fear memory, aversion, pleasure and in influencing other brain portions involved in memory processing.
Scientific research has uncovered that the Amygdala produces "sexually dimorphic perception and behavior."  In other words males and females perceive fear and pleasure differently. The female Amygdala can recall a greater number of memories, more vividly and swiftly and can even enhance fearful memories.
If a woman experiences feelings of being out of control or has a fall, the way their Amygdala processes this sensory information regardless of how minor the incident is, could result in their Amygdala enhancing the risk and perpetuating further anxiety. This gives us a sound neurological explanation as to why women may perceive greater risks when skiing, arising in a tentative and sometimes fearful approach.
Circumnavigating innate neurological behavioral responses is complex, however being more cautious on the slopes has physical and skill development advantages.
The advantages can be the opportunity to gather more thorough knowledge of skiing skills and movements, then utilizing this knowledge to master the practical skills of skiing. By initially gathering as much information about why, what, when, where and how to perform specific skiing tasks, it enables the learner to cognitively assess and consider potential perceived risks and form a strategy to minimize them.
Building of skills is essential especially when the perceived risks out weight the enjoyment. Taking time to slowly build balance, ski grip and directional change gives the skier a better chance of attaining the basic building blocks of skiing which will improve actual control and the feeling of control, which will in turn lead to satisfaction, accomplishment and enjoyment.
The actual time to master a skill such as dynamic balance while sliding down a ski slope will vary from person to person, it will be dependent on other factors as well such as physical strength, it may take much longer than you initially anticipated to master a skill, therefore patience is required.
The basic skills of skiing such as balance must be adequately mastered before speed can be increased or more difficult slopes can begin to be tackled, because without achieving a level of mastery the skier could adopt inefficient, unstable and less functional movements which will make it difficult to refine agility and motor control and perhaps lead to feelings of being out of control and fearfulness.
It is difficult to achieve skill development alone, since we can't see how we are performing movements, all we must go on is how it may feel or how we think we are doing. Often there is a discrepancy between how it feels and what we are doing.
With skiing being a practical participation sport, being able to have immediate dynamic feedback is important to guide and improve functional movement patterns to develop mastery and proficiency.
Immediate dynamic feedback from an instructor who is trained to identify how to guide and improve movements, is the best way to improve and develop proficient skiing skills. Women are also physically different so certain tasks may require modification during the skill development process.
The most practical and immediate way to have feedback is to book a lesson with a knowledgeable, experienced instructor who can provide swift answers, analogies and explanations of why, how and what is required to improve skills and proficiency. By having all the information, it allows for confidence to be improved, lowering tension and providing an avenue of skill development to occur.
I would also recommend in addition to qualifications and experience seeking a ski instructor whom you trust and is empathetic to your journey.
With this knowledge and understanding of how women's brains work, in particular the Amygdala we can recognize that there can be cognitive obstacles to overcome. Using the right approach, skiing skill development can be guided to reduce these neurological effects, resulting in confident navigation of the slopes, achievement of skiing goals and more enjoyment on the slopes on your next ski holiday.
Danielle teaches on The Mim Sodergren Women's Week program at Falls Creek, a five or seven day ski improvement course.