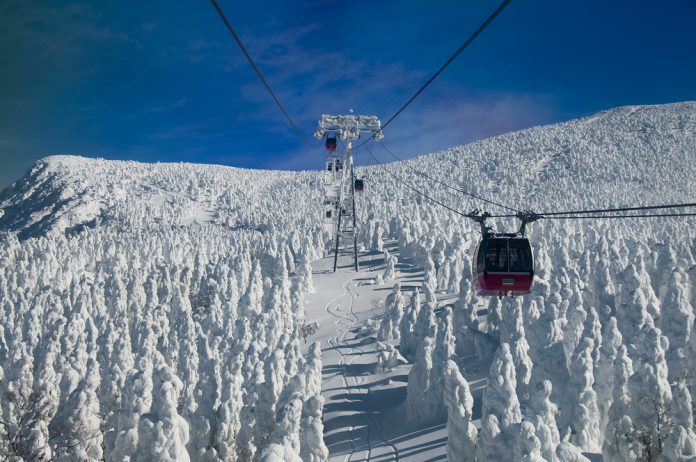 After 10 days skiing in Japan for the first time in almost a decade, one thing has become obvious. Everyone skied Japan before I (you) did.
There are two topics of conversation amongst Australians when they recognize each other in the resort lands of Honshu – how they were here before you were and the current price of Japanese ski resort property.
If I met one Australia, I met a gazillion who bumped chests while year dropping.
"Back in 1998, you know, when I first came here before you did, coffee cost 10 cents."
"Today was great but in 2002 the snow was so much better."
The earliest we heard was 1994 from an Australian who had left his hallowed gates of Niseko and ventured south to Honshu to be one of the first at the new look Lotte Arai this winter. The same day I was there. I'm not sure who checked in to the resort first, him or I, but, he was in Niseko in 1994, so, he wins.
I even found myself joining in (I can't help myself) with mic drop tales of Nozawa before the gaijin appeared, you know, that time I was the first female and only journalist in the elders home, during the lighting ceremony of the Dosojin Fire Festival, when Japan was a yearly feature on my ski itinerary. Have I won yet?
If they weren't dropping years unprompted like Eminem drops F bombs, they were discussing real estate as though they were still in Sydney at happy hour in the CBD on a Friday, not the snow laden zen hills of a minimalist Japan. Some could even juggle both conversations into the one sentence.
"In 1999 when I bought those five condos for $10 000 in Hakuba before you were there and before I flipped them in 2002 to then buy in Myoko before you could even spell Kogen, oh damn I lost my train of thought, so as I was saying I skied here and bought here before you did."
Skiing and snowboarding, especially when combined with travel, is a privileged person's leisure sport and with that comes the need to boast to appease status anxiety. In the world of snow, being somewhere before everyone else means you get the kudos. It's like first tracks only it's 'first resorts'.
But there is always someone who has been where you are before you, otherwise how did you know about it?
If a skier skis in the woods and no one sees then did the skier really ski in the woods?
The trouble with being first is you're not first unless you tell people and the trouble with telling people is that the word spreads and now that little known resort with no lift lines becomes a remote 'known' resort with a lift line and you have to share the powder.
Though to be fair, lift lines are relative. A weekend two minute lift line on a powder day in Madarao can hardly be compared to a half hour lift jam in the rain at the base on a powder up high day in Whistler.
Kudos must, or mustn't, go to the early adopters who recognized Niseko for a money making destination for those seeking their fortune, back in the day when Roger Donazzon owned Hanazono and his wife, Qantas chairwoman of the era Margaret Jackson, had, surprise surprise, direct flights to Sapporo.
Years later Hanazono now has lift lines, is Hong Kong owned and Qantas doesn't fly direct to Sapporo anymore. But they did, first.
Those that first skied Niseko then migrated to Hakuba, then Nozawa, then got pushed out to more remote resorts as word got out on each of them, are now hoping no one writes about Hakkoda or Asahidake (oops). Though they know they are fighting a losing battle as Furano and Myoko and friends start to take on shades of a relaxed Thredbo with a rising sun.
But here's the thing. Every resort starts somewhere and without customers they fold and no one can ski there. So as much as we complain about the infestation of Australians, and now the new Americans who act like they personally discovered and pioneered Niseko, without them there would be no Japan ski industry for foreigners.
So next time someone starts year dropping without prompting, thank them for being there before you, then ask them some questions, you might find some hidden gem information that will help you experience a part of Japan you have yet to ski. Then when you do, it will be a first, your first.
Though really, we should all bow down and thank the folks like Austria's famed Hannes Schneider who skied here way before any of us back in the 1930s. Though even he would have been usurped by Major Lerch who first took his turns on Japanese snow in 1911 in Joetsu.
We have a winner.
Join our Japan Deals and Chatter Facebook group for all things skiing in Japowland with like minded folk who share their tips and tricks.