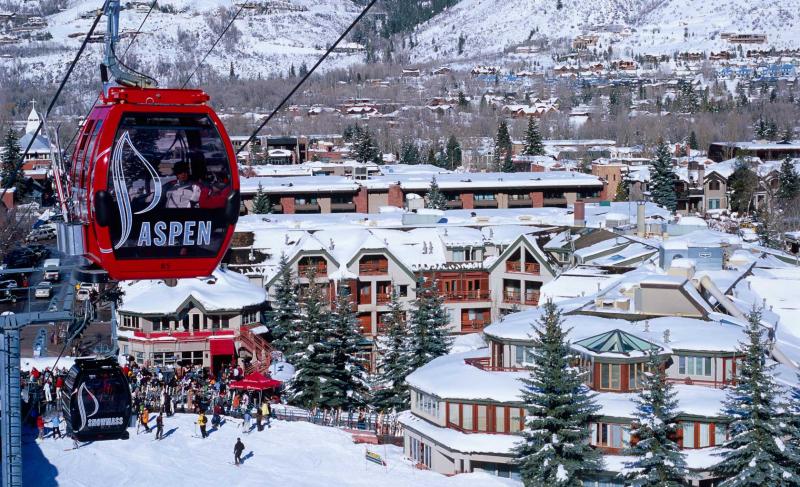 Chris 'Dav' Davenport has a life that would simply exhaust many of us. The big mountain skier inhales the extreme for breakfast.
He is a two time world champion, the first person to ski all fifty four Colorado 14 000 foot peaks in less than a year, has summited and skied Everest and has starred in over thirty ski films from Warren Miller and Matchstick Productions.
Dav guides clients around the globe with Canadian Mountain Holidays (CMH Heli Skiing), Portillo Superstars Camp in Chile, Antarctica, Aspen and Alta. Is courted by Red Bull, Kastle and Spyder and in his 'spare' time he commentates for ESPN, ABC Sports, Outside Television and has also authored two books.
Did we mention he is the father of three boys who are all destined to ski as well or better than he can?
Oh, and he lives in Aspen Colorado full time. This is his guide.
Why Aspen
I moved to Aspen after university, in 1993, so going on 21 years. I moved TO Aspen because of a girl- not a girlfriend, but a friend whose father was the GM of Snowmass and offered me a job.  It was one of those fortuitous events that was meant to be.
Once I was there for a season it was obvious to me that I would never leave.  I had found my home.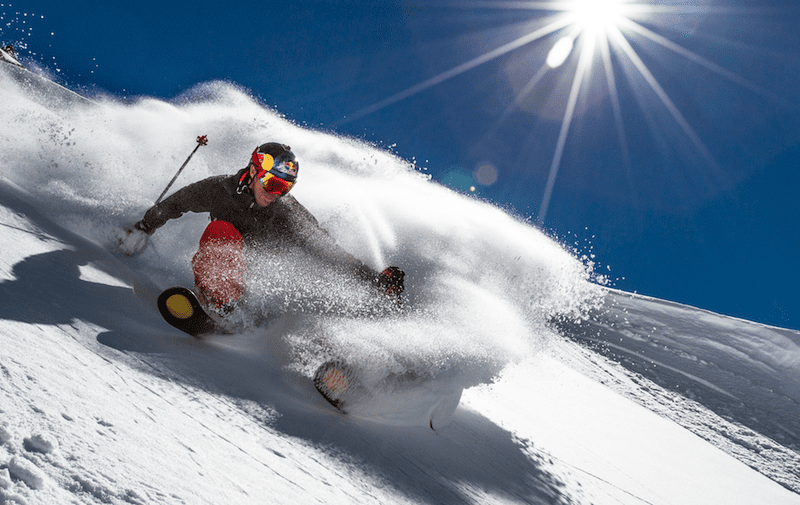 What's not to love
There are so many things to love about Aspen, but the powerful sense of community is really important. People that call the valley home are very passionate about it and embrace living life to the fullest.
This is the kind of town where everyone has a story.  If you hop on the bus you are libel to sit next to a Noble Prize winner, an Everest summitter, or a successful entrepreneur.  Everyone excels at something in Aspen.
The second thing is the mountains- they are a powerful draw for me.  I play in them every day in one form or another, and I feel at peace when I'm out there.  I can't imagine living somewhere without mountains.
Best coffee
It used to be Cafe Ink! for me but lately I'm drawn to the newer Victoria's because their espresso rocks and they have a fantastic breakfast selection.
Best apres
At Ajax (Aspen Mtn) its either 39degrees at the Sky Hotel or the Chair 9 bar at the Little Nell Hotel.  And at Aspen Highlands I love the Highlands Alehouse and all duct-taped Gore-tex wearing local hardcore skiers that call that place home.  But honestly I'm so busy that I rarely have time to relax and enjoy a good apres-ski session.
Best breakfast
The smoked salmon lox on a fresh bagel at Victoria's is incredible.
Special occasion dinner spot
My wife and I love Matsuhisa for sushi- be it at the upstairs bar which is more casual or with a group downstairs in the main dining room. But we also frequent local Italian spot L'Hostaria and French bistro Cache Cache.
Favourite Aspen event
There are so many great events in Aspen, but I'm involved with an amazing one called the Ajax Cup.  Its a celebrity ski race that takes place right before New Years day on Aspen Mountain.
We raise a ton of money for the local ski club, which has over 2300 kids in it.  I'm the co-chair of the race and we throw a huge apres-ski party after the race which is one of the parties of the winter, and always sells out.
a snow cat, a camera and Dav in Aspen
Where do you take out of town visitors to WOW them?
There are a few spots that fit the scenic bill- a short hike to Peanut Butter Ridge on Ajax sets you high above the Castle Creek Valley and offers stunning views of Aspen Highlands and Conundrum Creek.
After taking in the view you get some sidecountry powder turns through the trees before re-entering the ski area.  Only venture out here with a local as there are some open mine shafts lurking round.
Over on Snowmass I love hiking people up to the summit of Burnt Mountain and the start of the Long Shot run.  You get a massive view to the south of Highlands Ridge and the famous 14,000′ peaks the Maroon Bells.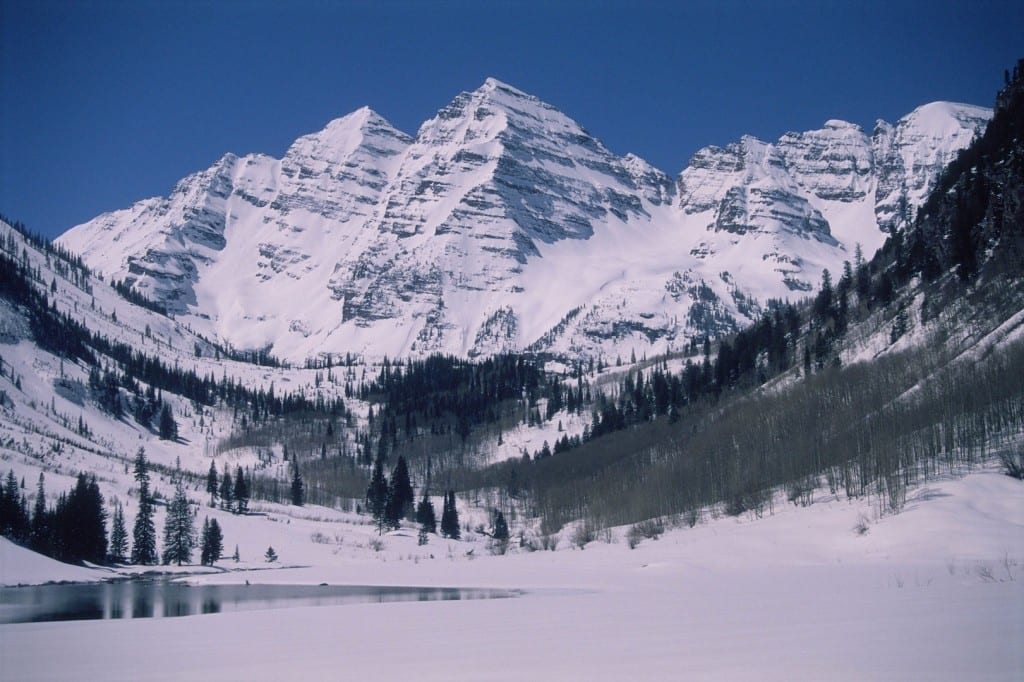 Secret powder stash
Highlands Bowl is no secret but its really big so there are always little stashes of powder in there.  I love the hike and the workout it delivers.  The skiing from the summit is the payoff.  Skiing is like that- a little sacrifice for a ton or reward.
Favourite Aspen local character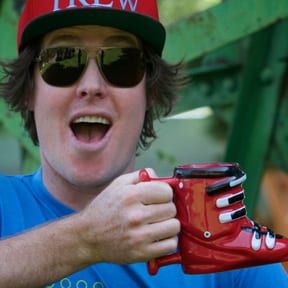 I'd have to vote for my friend Pat Sewell.  Pat was born and raised on the mountain as a skier with parents that worked for the ski company.  He skis everyday and always with a huge grin
People that live with this level of stoke always impress me.  If you want to find him just ski the "Dumps" of Ajax on a powder day and look for the smile and long hair flying by you!
What can you only get at Aspen?
A private guided ski tour from yours truly!
one thing to take back with you as a visitor to Aspen
Oh man this is a tough one, I might buy an Aspen Brewery t-shirt, or a ski jacket from local apparel company Strafe Outerwear.
Best Aspen memory
In 1998 I won the Gulfstream 24 Hours of Aspen with my partner Tyler Williams.  We skied 80 runs from the top of ajax to the bottom which is just under 1000-meters per lap.  And you go all day and all night.
At 2:30 in the morning it was -20C and there were like 3000 people screaming at the finish after the bars let out.  I'll never forget the energy that crowd poured out. Many people were there cheering until the sun came up.
By noon Tyler and I had won the race and dedicated our victory to all the fans who had been out partying and cheering all night long!  That was one of my greatest victories and most memorable nights for sure.
Want more Dav?
Check out Dav's website www.chrisdavenport.com
Follow him on Facebook, Twitter and Instagram
Join Dav on a Hut to Hut tour in Aspen in April or go heli skiing at The Gothics with Dav and CMH. More information here.
Read more: Mike Douglas' Insider Guide to Whistler