Turoa at Mt Ruapehu has developed a school holiday programme specifically for Aussies – 'the aussie holiday crew'
Australian kids skiing and boarding at Mt Ruapehu will score major boasting rights back at school. Why? Because it's not every day you can say you've skied or snowboarded an active volcano.
Mt Ruapehu sits in the centre of New Zealand's North Island and is situated in a dual World Heritage site . The volcanic peak rises above natural plains and was the scene for Mordor in the Lord of the Rings. More boasting rights for Junior.
The mountain is home to two ski fields. Turoa has 500 hectares of skiable terrain and is serviced by the fun mountain town of Ohakune and Whakapapa (the 'wh' is pronounced 'ffff', yes, yes, we know how it sounds) has 550 hectares and is serviced by a handful of businesses in the micro town of National Park.
Ruapehu's Turoa ski field has launched an 'Aussie Holiday Crew' programme that is based specifically around the Term 2 and Term 3 Australian state school holidays.
The premise is simple, spend two or four hours a day taking your skiing or riding to the next level. The program is split into Team Adult (18 years and over), Team Seniors (13 to 17 years), Team Juniors (7 to 12 years) and Team Grommets (4 to 6 years old).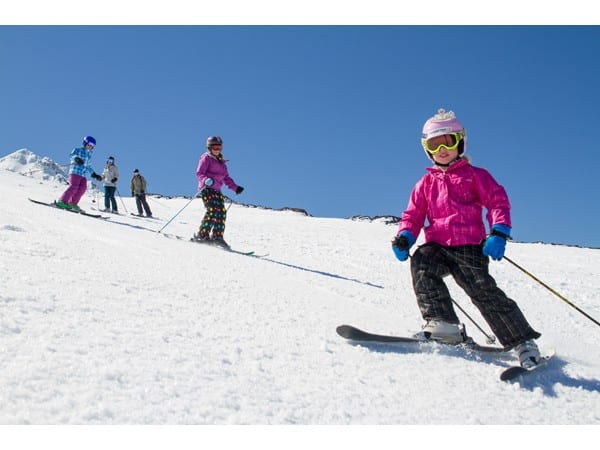 You'll receive coaching from the same instructors each day for five days to maximise your progress, a two hour morning program and the option of a two hour afternoon program too. Plus you'll have access to the race courses, access to The Airbag and lift line priority.
All this for NZ$265 for a 5 days 2 hour programme or NZ$365 5 days 4 hour programme.  The price does not include lift passes but you can purchase half or full day options that are valid for both Turoa and Whakapapa.
If your kids are too young to join the Aussie Holiday Crew then Turoa's fully licensed childcare facility, the Yeti Childcare Centre, offers care for kids up to five years of age from NZ$50 for half a day and from NZ$80 for a full day.
Three to five year olds also get ski lessons at their own age group pace for one to two hours total across two sessions. Snacks and drinks are included for your little Yeti and lunch can be provided for NZ$15.
For more information and to book the Aussie Holiday Crew program visit Mt Ruapehu.com
Follow SnowsBest on Facebook, Twitter and Instagram