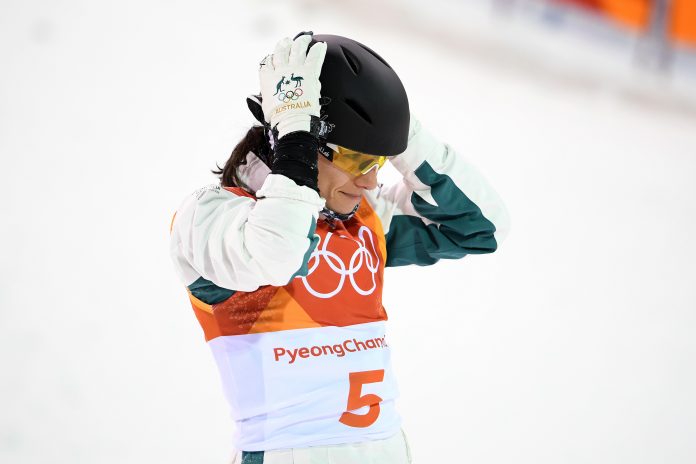 The Olympics is big. It's a beast that chews you up and leaves you spent. Days are super long, pressure is all time high, exhaustion comes with the territory, tempers are frayed and feelings run deep.
Emotions and adrenaline were already all time for those of us on the ground before entering the aerials arena for the women's qualifications tonight under the lights. We had spent the afternoon witnessing a super charged boarder cross final.
Australian Cam Bolton injured himself in his semi final, strapped up his arm like a trooper and went for it in the small final to finish tenth overall. Then an on form Alex Chumpy Pullin sadly crashed in the final, overshooting his jump and falling what he called 'the equivalent of a four story building', before Jarryd Hughes went on to take silver for Australia. We didn't know whether to laugh or cry.
With four Australian aerial skiing women vying for a spot in tomorrow night's finals, we had more chances than most. All eyes were definitely going to be on Lydia Lassila. Our aerial pocket rocket on her fifth Olympics campaign.
She of the devastating knee injury in Torino, gold medal madness in Vancouver, bronze in Sochi and the first woman to complete a quad twisting triple somersault high in the air while attached to skis. Should she make it through to the PyeongChang finals she would be one step closer to becoming Australia's most successful Winter Olympian ever with a third Olympic medal.
Her husband, former Finnish mogul skier Lauri Lassila, sat quietly in the crowd with their son, Kai, by his side and a rowdy Australian cheer squad of athlete family and friends in full green and gold regalia.
Dani Scott had already secured her finals place with a score of 93.76 in the first qualification run. Both Laura Peel and Sam Wells crashed in their first run and would have to go for it a second time in the repechage. Lydia was last on the run sheet and she too landed poorly forcing herself to also rely on her second run.
Laura went first for the Australians and nailed 89.46 and a place in the final. One down, two to go.
Sam fell on her jump, landing awkwardly and shattering her Olympic dreams for 2018. Gone was her trade mark smile replaced with anguish and the podium out of reach.
Lydia was, again, last with one run to make it through. Only she didn't. Her landing felled her and the feel good story of the games that had all played out inside our heads with a third Olympic medal retirement for Lydia's swan song simply ended. Just like that.
The crowd shuffled into the night, athletes had already packed up their bags before Lydia's final run and departed the stadium, the music died and the lights dimmed. By the time Lydia made it through a handful of broadcast interviews there was no one left in the arena but her, an AOC media representative and we three lone journalists with a bag of questions no one wanted to ask.
"I just don't think it's sunk in yet, it has and it hasn't" said Lydia as we nodded in sympathy.
"This is an outside sport, you can't control a lot of things and tonight I just couldn't control the wind and my speed was too hot on both of those jumps, I couldn't save them."
It all felt so futile and anti climactic chatting about what could have been to an athlete who has seen it all and wanted one last chance to see it again. Five Olympics is a big feat.
"That moment when you know it's over, it's over" said an always articulate, now choked up, Lydia.
"It's brutal and it's a disappointment, obviously it's a feeling of loss in a way, you've lost an opportunity, I feel pretty down but that's sport and you have got to reflect on the good things and the happy moments that I've had, my kids, my family, my friends, life's good."
There has been a lot of reflection from Lydia in recent times as she has concentrated on experiencing each competition moment over the past two FIS World Cup seasons, knowing they were her last. She entered a medal contender at this Olympics off the back of a gold and a silver in only three World Cup events she competed in this northern winter. This was not an empty campaign, it had promise, a lot of promise.
"That's it for me" said Lydia. "I am gutted for everyone at home, they're going to be so bummed for me, I am bummed too, they were hoping that this would end differently, and I was too but what's done is done.
"Today will replay for a bit and that's going to be hard but I'm in one piece. Everyone's got their story, everyone either has a happy one or a disappointing one at the Olympics, not everyone wins medals.
"It's an amazing feeling to win anything, Sochi was an incredible highlight for me. It was bitter sweet and a moment where I think I shifted things in the sport and I'm really proud of that. Today we saw Ashley Caldwell not make it through to the final and she's the only one that's done the full double full full quad twisting since me, she's not going to be in there tomorrow, I am gutted for her, I really am."
That's the thing about Lydia, she loves her sport. It's not just about her, it's about progressing the sport of aerials, pushing the boundaries, supporting those that want to 'go there'. Standing alone on a cold winter night in Korea with just a handful of exhausted burnt out journalists in an empty Olympic venue doesn't feel like a fitting end to such a prestigious career.
[srizonfbvidsingle id=1926476387366655]
But we get the feeling finals night may still be Lydia's night, just on the other side, seated in the stands amongst the team mates, family and friends who both adore her and have made her campaign possible.
"We have two (Aussie) girls in the finals tomorrow, and that's great and I'm really glad that we do and I hope we can come through with some hardware" said an upbeat Lydia. "I'll be watching, I'll be cheering them on and hoping and crossing every limb of mine that one of them ends up on the podium."
And with that she wanders into the night in search of a "glass of red." Personally we think she's earned a bottle, scratch that, a barrel, oh, give the woman a vineyard.
Women's aerial finals are on Friday, February 16 at 10pm Sydney time.