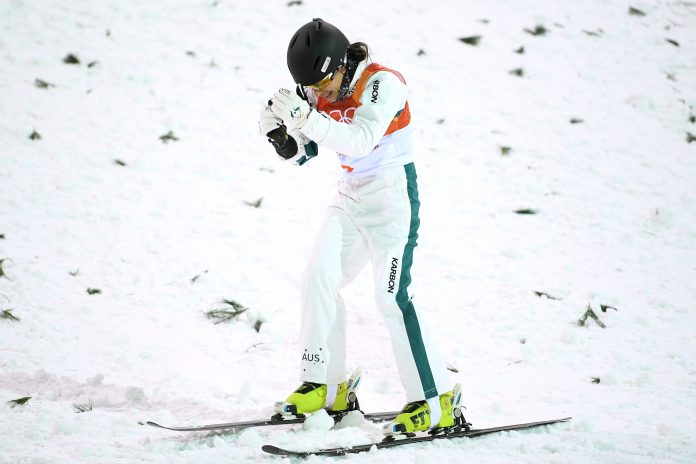 Dual-Olympic medallist Lydia Lassila's career came to an unceremonious end in Pyeongchang after she failed to qualify for the final of the women's aerials competition at the 2018 Winter Olympics.
So said the headlines.
I watched last night as one of our most seasoned athletes broke her own heart. The interview with her husband was hard to watch. The love, the pride, the sorrow as he held back tears for and with his partner in crime.
The commentators were audibly sad, the audience visibly sad too. As Lydia waited for her score she looked at the camera and said "I'm Sorry". And my heart broke for her too.
You see, Lydia needs not to apologise. Certainly not to any of us. Perhaps she's made deals with herself, promises to her family, but not to us. In fact, I couldn't help but think about the learning opportunity she just handed to every person across Australia, and how grateful we should all be to have a person like Lydia, not the athlete, the person to show up and show us what living big looks like.
I first got to know of Lydia's story when I was on my way to Chicago to chat with a bunch of epic teachers about innovation. I watched The Will to Fly and quickly got to work on shifting the message of my keynote, and of my own life.
Lydia taught me that it's not about perfection, not even about winning, but it's about showing up, time and time again, in spite of everything (sometimes even yourself). About being really good at what you love and pushing everyone around you forward by getting big goals and working damn hard to meet them.
That it's about looking at something interesting and going for it. About allowing yourself to be brutally disappointed when it doesn't work out (for a little while), and not overly congratulating yourself when it does. Lydia's will to fly became an important narrative that has had profound impacts on me and my work.
My friend Katie Bender (producer) dedicated years of her life to capturing Lydia's story. I thought about her last night and I suspected she was on my wavelength here. She didn't create the film The Will to Fly to showcase an easy rise to Olympic Glory. It's a tale of grit and perseverance.
The Will to Fly is all about a woman going for it. Exactly what we saw in Lydia last night. And you don't need a piece of metal to validate that you gave whatever you're pursuing a go. I sure hope Lydia knows that.
So if you're looking for a story that will really (gosh I hate the word but I'll use it) Inspire young people to their own glory. Tell Lydia's story. Many might comment that what happened last night was sad, and a shame. Don't buy into that. It's crap.
Unlike many athletes before her and to follow, Lydia's legacy is greater than any single day, any single jump or any single medal.
And for that, she's not only a true champion, but a true human and one you should introduce any young person to. There are some excellent teaching resources to help you unpack this awesome story too. Lydia has been an Olympian for over 16 years and retires as someone who will be remembered in the sport as brave, dedicated and skilled. Her country is really proud and looking forward to seeing what she does next.
If there's one message I will always hold dear from Lydia it's this – you can do it all. You can have it all. You just need to be organised.
To the woman who gave it all to do it all, Lydia Lassila, thanks for showing us (me) what it takes to have not only the will to fly, but the guts to do it too. Your career is all but unceremoniously over. In fact, I suspect the best is yet to come.
Let me have a go at rewriting that headline…
Lydia Lassila, who decided long ago to back herself, work bloody hard and have it all in the process gave it her best in last night's women's aerials competition at the 2018 Winter Olympics.
Onwards.