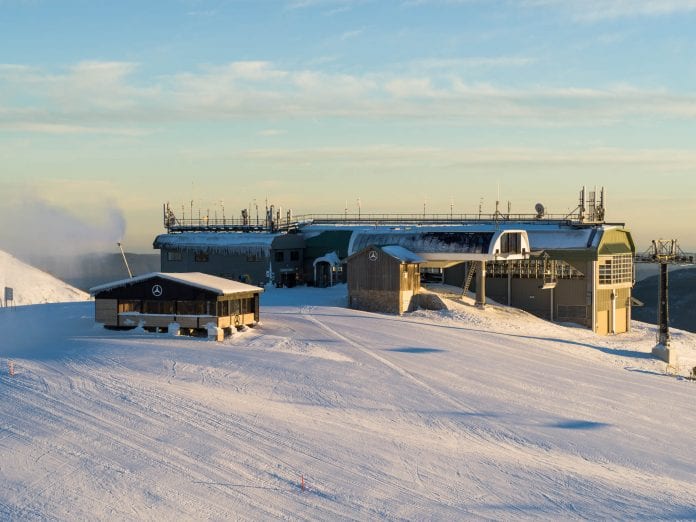 We sent Robert Upe to check out the Mercedes Benz pop up lodge and hang with Scotty James, and he wasn't disappointed. 
Mercedes-Benz has opened a pop-up warming lodge near the top of Mt Buller. The comfortable and chic day lodge is open to all skiers and snowboarders, providing a place to get out of the elements and rest up in between tackling the slopes.
The Star Lodge is constructed from three shipping containers, but you can hardly tell, because it is all class.
Inside, there are leather chairs, old wooden skis and sleighs on the walls, bench seats, Mercedes-branded blankets draped on the furniture, and a wall tap with a Benz logo if you need a drink of water.
In a nod to modern auto technology, Mercedes-Benz air vents are built into the window sills to provide warm air, and there's ambient lighting to suit the time of day, just like the comfort-control lighting featured in the car maker's S-class range.
You can also connect to Wi-Fi and charge your phone.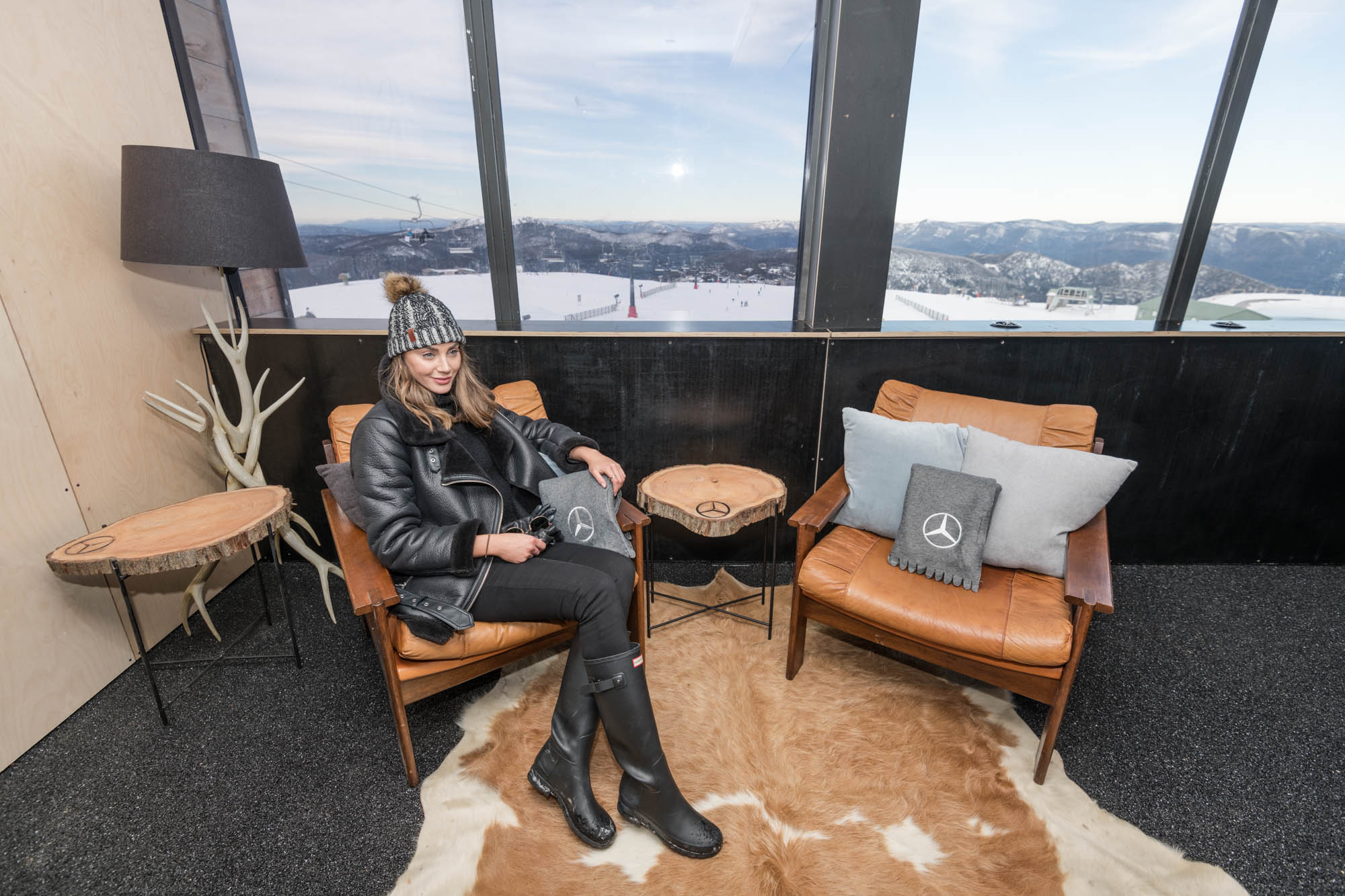 The lodge is at 1700 metres, near the top of the Mercedes-Benz six-seater chairlift.
Wrap-around windows provide stunning 180-degree views, either looking out towards The Bluff, or down the ski slopes. There's even a telescope to enhance the views.
The lodge is in the tradition of warming huts found across the Alps. But while European warming huts are usually in old and rustic buildings, the Star Lodge was constructed only recently and will be taken down in October, even though it looks permanent.
The three shipping containers were placed into position by a crane and sit on 12 1.25-tonne concrete blocks.
"We want to be where our customers are" says Mercedes-Benz director of marketing Gavin Allen.
"We want to provide a haven for them and to replicate the same comfort as in our vehicles."
The car maker's Australia-Pacific CEO, Horst von Sanden, says skiing and snowboarding is a favourite pastime for many Mercedes owners.
"With the Star Lodge we give not just our customers, but every visitor a subtle taste of Mercedes-Benz lifestyle."
Among the guests at the opening of the lodge was 'Postcards' television presenter Brodie Harper, as well as 2018 Winter Olympics flag bearer and halfpipe bronze medallist, Scotty James.
The snowboarder says the Star Lodge is a welcome addition to the mountain.
Mt Buller has had a good start to the season, with plenty of skiing and boarding options for beginners and intermediates heading to the resort for the start of the Victorian school holidays.
Check out the latest Mt Buller forecasts here.