If you didn't know that Australia's alpine region has been pounded with snow this week, well, then you must have taken one too many phenergans with your whiskey on Sunday night and just woken up. For the record, it's Thursday and it's been snowing since Saturday. 
Now you've caught up, what did you miss? This. You missed this. Over 60 centimetres of pre season snow.
How much? So much that Mt Buller in Victoria declared free skiing for all! Well, for all on Saturday anyway. The resort was the first to declare an early opening with Perisher literally moments later declaring they would open a day earlier than Mt Buller and turn the chairlift wheels on Friday. 
The season has officially begun as social media went into snow meltdown mode with a gazillion tweets, grams and Facebook posts declaring the snow as good as the much talked about year of 2000. That's the year the ski industry of Australia use as their most recent generational bar by which all other seasons fade in comparison.
So stop scrolling your feeds and thank us for curating this gallery of the best snow pics of the pre season.
Victoria resort areas
Hotham's media crew embraced the table- metre. It's deep.
Falls Creek chose the classic 'dude, where's my car' approach.
Just remember this is mid July, oops, I mean end of May, people. You'd be forgiven for thinking you missed June by these pics of ski patrol from Falls Creek Resort.
Mt Buller discovered the joy of falling snow amongst snow gums and entranced us all.
Meanwhile at Mt Baw Baw…
New South Wales resort areas
You can count on the trusty lodge owners at Perisher to pull out their smart phones when the snow starts falling.
The media peeps at Perisher aren't too bad either. Dude where's my snow mobile?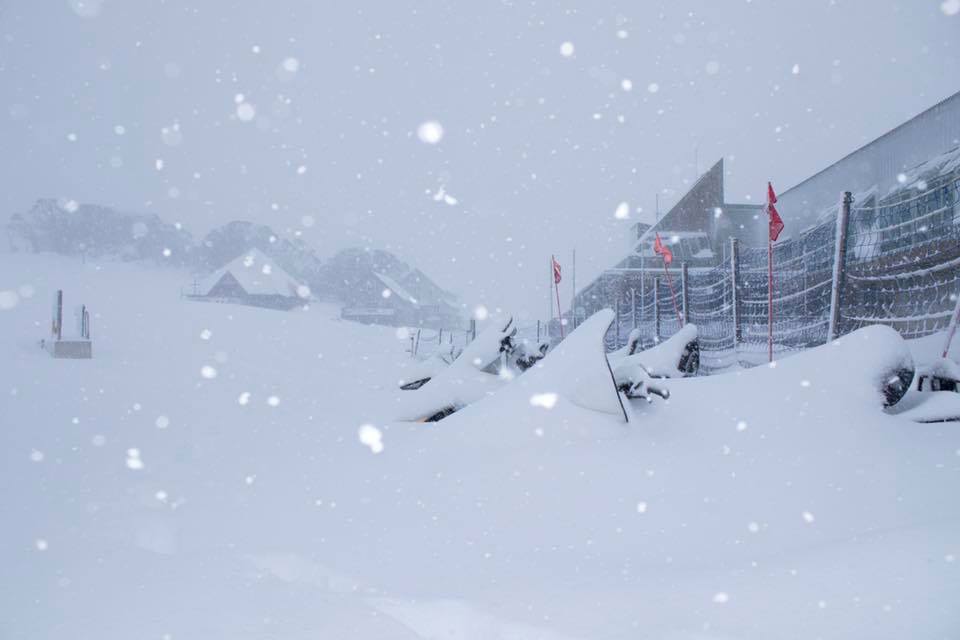 Charlotte Pass local, Didj Hopkins, always provides the most entertaining snow reporting on his personal Facebook page. 
Thredbo knows the joy found in the simplicity of piles of snow and a Tonka Truck. There is something strangely satisfying about this video.
Tasmania
Let's not forget about our friends down in Tasmania who saw their own serious snowfalls.
Good news is there is more snow on the way. Check out our Snow Forecasts for more and join our Facebook Groups for snow chatter.