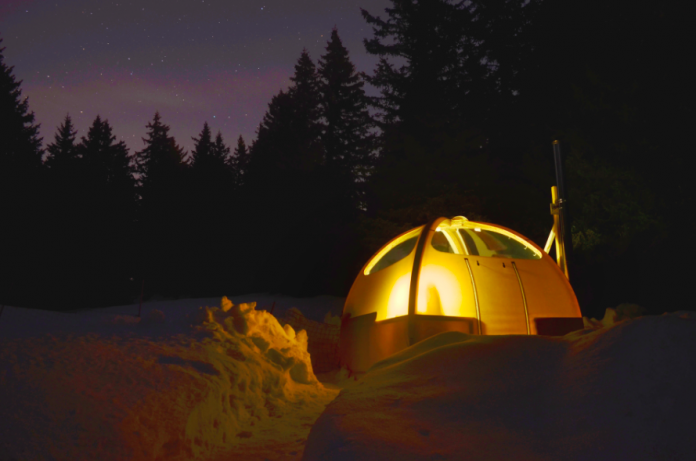 This winter, Hotham will become home to Australia's first ever eco domes in the snow.
The new domes are one of the most unique accommodation offerings to come to a Southern Hemisphere resort in recent times, offering up a luxe glamping way to embrace nature in the Aussie Alps.
The entire concept has been created by Jean-Francois Rupp, who moved to Australia from the French Alps in 2014. Rupp loves the Australian Alps for their accessibility and beauty – particularly Hotham, which offers up the perfect atmosphere and opportunity to make the most of alpine activities.
Tell me more
Here's how your evening will look in the eco domes. Start by snow-shoeing out to the eco-village and central teepee, which is hidden out amongst the gum trees and under the stars.
Enjoy a mulled wine or a hot chocolate by the fire. Then pick up some French cooking tips while preparing your very own cheese fondue with Jean-Francois, made, of course, with cheese imported from French alpine farms.
When you're ready to go to sleep, you can expect a warm, comfortable bed (no air mattresses here), an internal fireplace (so no need to worry about getting cold) and a night of star-gazing through the window in your eco dome.
And don't worry about any creature comforts being left out, because 3G/4G, warm/dry toilets and warm drinks are all available at this particular glamping experience.
The best part of the experience? You don't need to be able to ski to enjoy it all. If you can walk, you can snowshoe, so no prior snowsports talent is required. It's perfect for those who want to get out for some fun in the snow, but might be apprehensive about learning how to ski or snowboard.
And for those who do love skiing or snowboarding – you can make the most of Hotham's slopes before and after the eco experience, or enjoy it during an extended Hotham holiday as a cool little mini-break within your break.
Need to know
Alpine Nature Experience will operate from Friday the 15th of June. The overnight tour must be booked in conjunction with the Snowshoe to cheese fondue.
– Private Snow-dome up to 2 people:Snowshoe to Fondue ($109) + $180 Adult / $80 Child (6 to 12years old). 
– Private Snow-dome up to 4 people:Snowshoe to Fondue ($109) + $160 Adult / $80 Child (6 to 12years old). 
Includes: Snowshoe to fondue experience, overnight accommodation in snow-domes, scenic skidoo tour back to Wire Plain.

Bookings are essential – you can book by clicking here.