Dave, Rich and I held heads in hands over breakfast. We had of course known that at some point the vodka would chase us down.
The previous night Eraj and his father, the chief magistrate in Tajikistan's capital Dushanbe, had toasted our travels, the politics of our nations, our families and much else beside as bottle after bottle appeared at the dinner table.
We were the only occupants in the huge dining area of Artuch, an ex-Russian mountaineering camp that Eraj now owned. Artuch, opened early especially for our visit, sat in a deep valley on the northern edge of the impressive Fann Mountains.
The 'Stans', that jigsaw of former Soviet Republics in the vastness of Central Asia, were a mystery to me before now. Tajikistan is the smallest and most mountainous of them. In the east of the country rise the Pamirs, containing giant peaks rising to over 7000 metres. Further west are the Fann, topping out at a mere 5500 metres.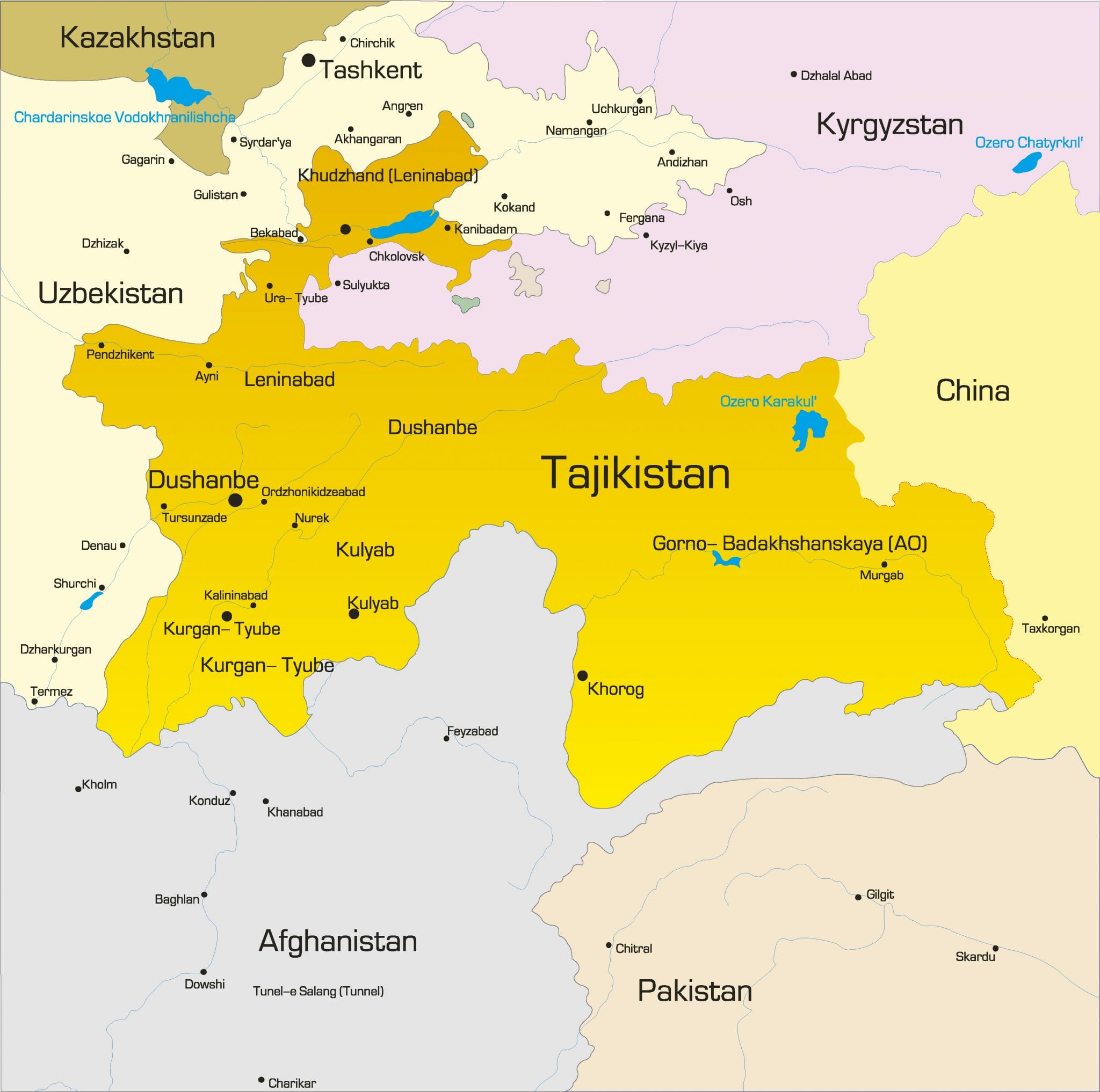 Ant, the fourth member of our team, was lucky perhaps. Laid low with a stomach bug the night before, he'd missed dinner but had his own traumas.
We had, by way of an entrée, already spent a week skiing in the range, going in from the eastern side for an explore and acclimatization. We'd seen the potential of the Fann on that trip before being forced out by a metre of fresh snow that buried both our tents and our plans to attempt one of the higher peaks.
But we managed to ski some slopes including a memorable small peak that had us screaming with delight as we dipped into Central Asian powder on a run back to the tents. Eraj had then picked us up from this trip for the drive around to Artuch to begin the main course of our ski tour; an attempted traverse of the range
Leaving Artuch we were glad to have the services of two donkeys to hoik our substantial loads to the snowline, even more so considering our fragile state.The donkeys and Saed, their handler, left us to camp near Kulikalon Lakes (2900 metres) on a damp and misty afternoon.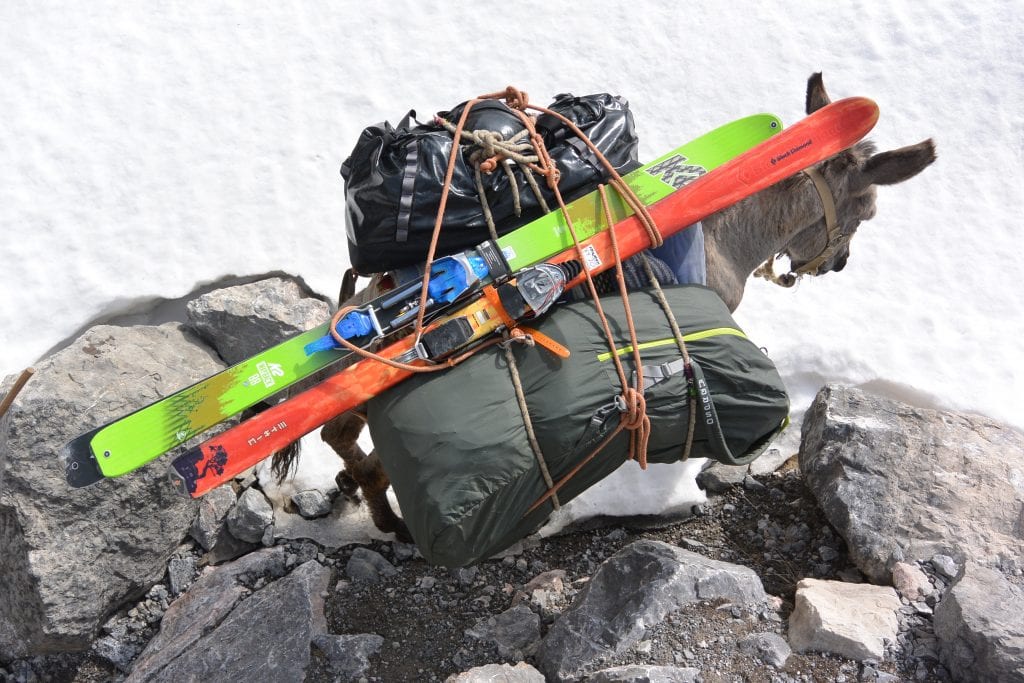 After a couple of days skiing some nearby slopes and peaks we packed to skin up toward 3800 metre Alaudin Pass. In truth it was some of the worst snow conditions I'd encountered in a long while and despite the magnificence of our surrounds, the near 30kg load and the seemingly bottomless slush was only a step away from hell.
Eagles (or were they vultures?) soared above; in wait perhaps.
The ski over and then off Alaudin Pass was steep and firm to start but 1000 metres lower put us back into the slop where skis smashed into unseen rocks and a fall could mean 30 minutes to regain the vertical, pushing down against nothingness.
But conditions were much improved as we skied deeper and higher into the range, all the while blown away by the rock spires, big walls and glaciated peaks and the most spectacular of camps. A long, blue sky day up the Kaznok Valley put us into the very heart of the Fann.
Above us Chimtarga, at 5489 metres the highest peak in the range, stared down on our tiny tents. Threading a ski route through such big country always inspires awe; sitting with hot chocolate in hand watching the sunset at camp equally so.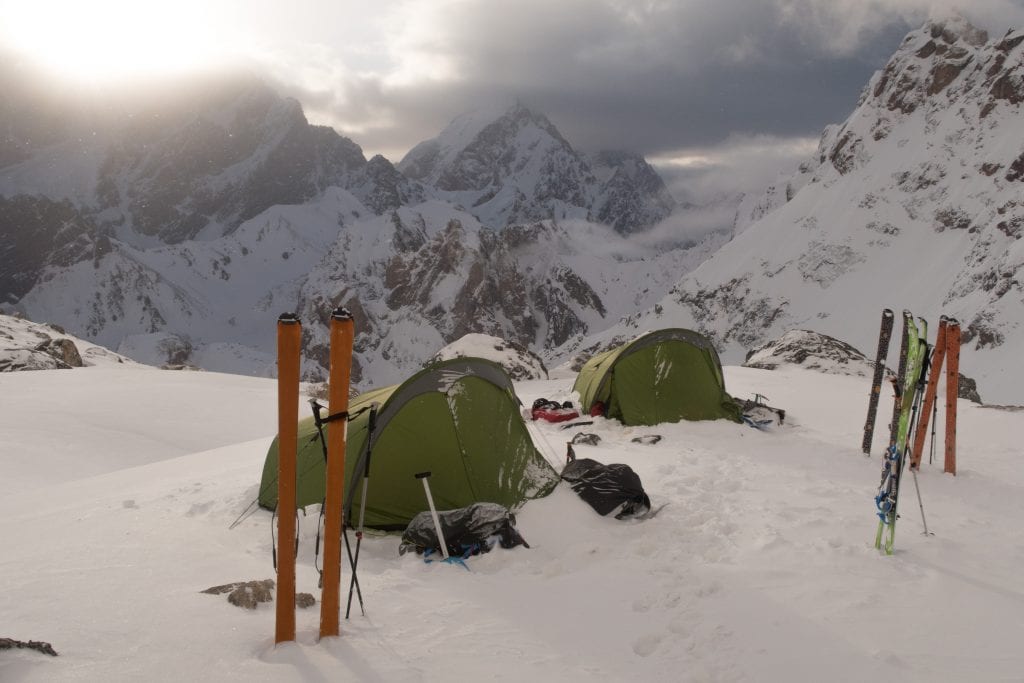 We spent a couple of days exploring some side valleys as heavy snowfall returned to provide superlative ski conditions. Usually on the downhills we loaded the contents of our small sleds into and onto our packs, the sled itself too, but on one occasion I let rip with sled still attached and loaded. It was hilarious; like a crazed puppy it slid past me, jumped across in front of me as I turned and, on one occasion, even managed to slide through my legs.
In the snowfall we skied up toward Chimtarga Pass. Dawn was finger snapping cold but a break in the weather revealed another stunning panorama of peaks and a steep climb to the pass. We came onto this, our high point at 4750 metres, as the weather closed in again. It was a desolate place, where winds had scoured the pass almost clear of snow.
We had hoped to climb Energya from the pass but the route too was scoured, the glacier falling in sheets of bare ice. It was no place for skis. But that was soon forgotten as we dropped off the pass into the most glorious of ski runs. A thousand metres of vertical took us first down a powder filled gully with glacier ice to our left and vertical rock to our right. Beyond the glacier snout our exclusive piste widened into a valley.
The knowledge we were the only people in the whole mountain range added spice to our turns.
Snow continued to bucket down that night and beyond as we continued down the Zindon Valley. A tortuous, slippery route through a massive boulder field risked twisted ankles or more but we survived to reach and camp at frozen Big Allo Lake. It was an uncomfortable night of diarrhoea for me although I had to laugh when, with my bum exposed to the elements for the sixth time, Ant shouted out from the tent 'Seems like the shit has really hit the Fann now'.
Our old Russian map had indicated a possible route south from here and a glorious but long, long day followed. A spectacular valley led steadily up beneath icefalls and snowy peaks before kicking up for a very steep, soft snow pull onto 4300 metre Dvoinoi Pass. It was slow going, trying to pull the sleds up 30 degree slopes with ever shortening traverses and kick turns. By the time we reached the pass it was snowing again and visibility was zero, making for an interesting descent.
The final wake up on snow was perhaps the best of all. Dawn revealed a clear sky and by chance we'd camped where the sun hit early and it poured in through the tent door. The temperature went from -25 to -5 in the space of 30 minutes and we marvelled at it all: the huge bowl we were in, the pyramid peaks all around and the down valley view of our final run to the end of the snow.
On our twelth day we popped out at the village of Sarytag – to a hot bucket bath and Eraj waiting with a bottle of vodka or two. Perhaps we had learned nothing?
Want to ski in Tajikistan?
You'll need a great sense of adventure and some serious ski touring, snow safety and avalanche awareness skills. Plus you'll need to go with a crew of equally skilled skiers and boarders, camp out in the wilderness and be prepared to be exposed to the elements. Guides are scarce and hard to come by, if there are any at all. Check in with Artuch Travel Mountain Adventures for more and be aware of travel alerts on SmartTraveller for Tajikistan.
Huw would like to thank Osprey Packs and MSR for supporting this journey into the Fann.
---
Please help SnowsBest survive  2020 and remain your independent source of snow news with a "Covid contribution", from as little as $1, so we can continue to deliver the news and content you value in a season when we need each other most. Contribute here.
---