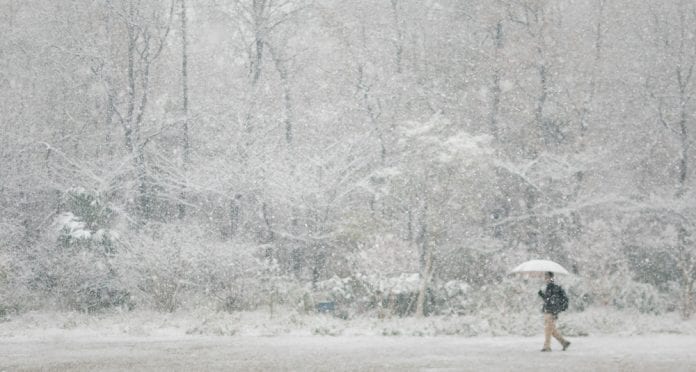 A risk of severe weather warning for New Zealand and big snow falls for Australia. That's the week ahead from meteorologist Alex Zadnik.
Sunday is looking like a great day for the Australian resorts. 
Rain then snow for Australia
This weekend is shaping up nicely, particularly if you are planning to hit the slopes on Sunday. Before we get to the weekend, there will be a couple of days of milder days and rain showers to contend with.
On Wednesday morning, a strong to gale-force northerly airflow had developed between a high over the Tasman Sea and a frontal system over the Great Australian Bight (as shown in the current synoptic chart with satellite overlay). This northerly airflow is drawing relatively warm air across the Victorian and NSW resorts from the northwest of the Australian continent, pushing temperatures above zero at all resorts.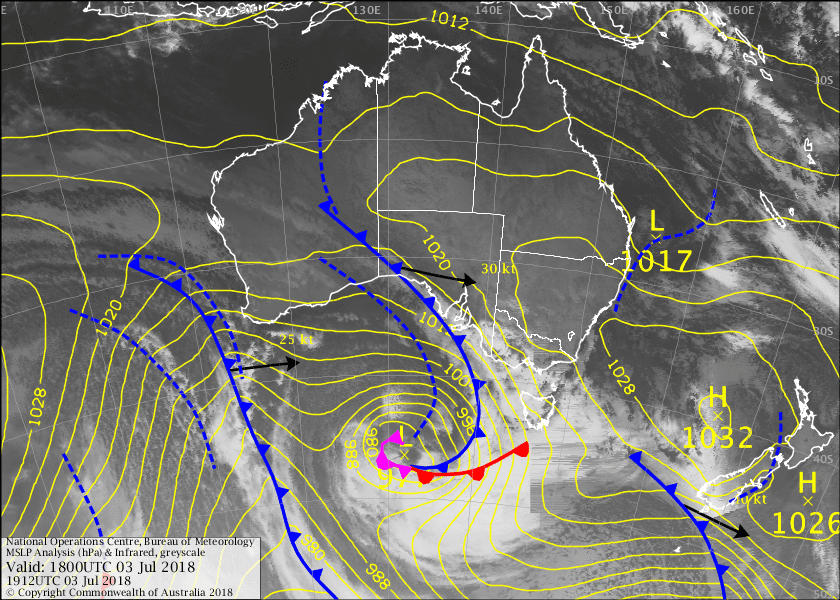 This first frontal system will slip away as it approaches Victoria and New South Wales on Thursday, but the approach of second stronger system will generate rain showers during the day, particularly for the Victorian resorts). Windy and warmer than average conditions will also persist.
The good news is that this next front will deliver a shot of colder air to the resorts through Friday, helping the snow level to lower through the day. A third front will bring further snow showers and even colder temperatures to all resorts on Saturday. From Friday afternoon through to Sunday morning, widespread 20-30cm snow totals are likely.
Higher parts of Hotham, Falls Creek, Thredbo, Perisher and Charlottes Pass should reach the 30-40cm range.
A developing high pressure system will bring an easing of winds and improved visibility to most resorts on Sunday, so this is looking like the pick of the weekend for skiing and boarding. Temperatures may rise a touch above zero during the day, so get out there early for the coldest and driest snow.
This high will remain in place for most of next week, keeping conditions dry through until at least Wednesday. Nights will be cold for snowmaking activities, while days will be sunny and pleasant for the school holiday crowds. There will be another warming trend during the second half of next week, but more on this in next week's update.
Heavy rain and wild winds then hope of snow for New Zealand
New Zealand is in for a burst of rain and warmer than average northwest winds through the second half of this week. Like Australia though, colder air and snowfalls shouldn't be too far behind.
A strong to occasionally gale-force northwest airflow will develop for parts of the South Island on Thursday and Friday, as a frontal system slips south of the nation and a high remains centred over the Tasman Sea.
This airflow has its origins over warmer parts of the Australian continent, so the freezing level will climb towards 2000m on Friday.
Heavy rain is expected to develop for the Queenstown and Wanaka resorts on Friday, so I'd be penciling this in as a lay day.
Severe weather warnings may be in place through this period, so it's probably wise to avoid the mountains.
It should become cold enough for snow around Otago during Saturday, but other parts of the South Island and the North Island can expect rain and strong winds. Rain may become quite heavy for Ruapehu on Sunday, so the weekend doesn't look especially enticing for skiing or boarding.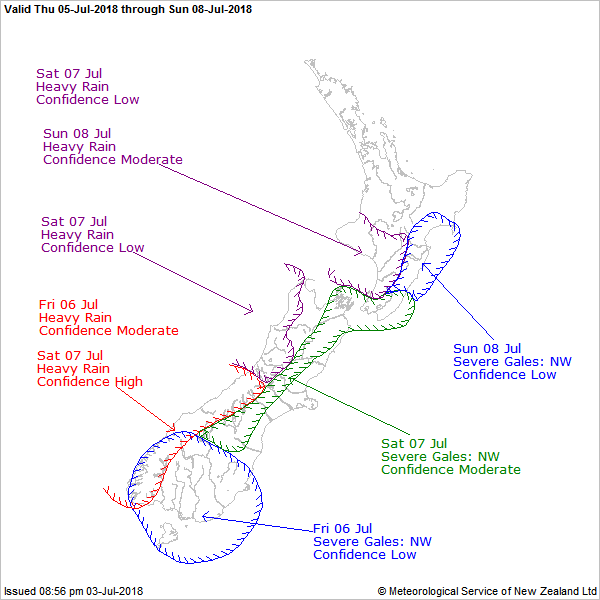 Better news on the way
A better dose of cold air and snow should spread across the South Island during Sunday evening and reach the North Island on Monday. It is a little too early to have confidence on the snow totals through this period. But modelling is indicating widespread 10-20cm falls for the majority of New Zealand's ski fields.
The Remarkables, Cardrona and Treble Cone may crack the 30cm mark with some luck, which should go someway to repairing the damage from Friday's heavy rain. Below zero temperatures and easing winds should create improved conditions for skiing mid next week.
Check in with our 7 day detailed snow forecasts for your favourite resort in Australia and New Zealand.