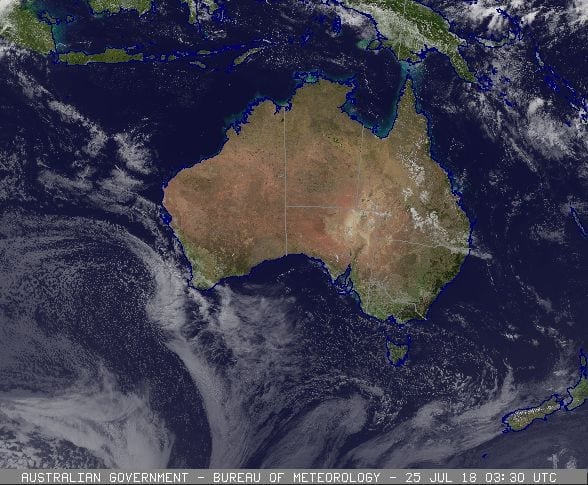 Expect a snowy end to the week for New Zealand and big Sunday snow falls for Australia. Meteorologist, Alex Zadnik, reports.
Australia
There's been some excellent conditions at the Australian resorts over the past week, with fresh snow falls pushing the base past the one metre mark at Hotham and Falls Creek. The snow depth at Spencers Creek in NSW has also edged up to 99cm.
Snow did tend to rain through the Australian resorts during Tuesday night, creating heavier conditions for skiing today. Strong winds have started to ease in Victoria and should also do so in NSW through today as a high pressure system takes up residence over both states. This high should bring mostly dry weather to the resorts through Thursday and Friday, although partly cloudy skies will probably linger.
Rain is a risk for the resorts on Saturday, particularly in NSW, as a weak low pressure system tracks across that state. The good news is that a much stronger cold front is due on Sunday, which should deliver significant snow falls to all resorts.
There should be at least 20-30cm of fresh snow at the majority of resorts and totals may nudge 50cm on the higher runs of Hotham, Falls Creek, Perisher and Thredbo.
Visibility will be poor on Sunday, with strong winds and falling snow, but conditions underfoot will be excellent by late in the day.
The weather on Monday should improve a little, although it will still be fairly windy with cloud about. The best time for skiing and boarding is likely to be in the morning, as temperatures may rise above zero during the day, creating heavier snow conditions. A return of snow showers is possible on Tuesday but probably only down to around 1500 metres.
There are early indications that we will see a favourable pattern of cold fronts line up across the Australian resorts during the first week of August, but will take a closer look at this in the next update.
New Zealand
There has been a top up of fresh snow across all of the New Zealand ski fields in recent days, with around 20cm falling over the Remarkables, Cardrona, Treble Cone and Mount Hutt. Conditions on Wednesday morning were looking excellent, with clear skies and sub zero temperatures. An increase in cloud is likely through the day, but it does look like a great one for skiing and boarding.
Today's increase in cloud is due to the approach of a cold front from the west. Snow showers should develop across the South Island tonight and spread to the North Island on Thursday. Snow falls will continue into Friday in the wake of this front and increase again on Saturday with the arrival of a second front.
Widespread 10-20cm falls are likely across New Zealand's ski fields between Thursday and Saturday, but the higher runs of the Remarkables, Cardrona and Treble Cone could see accumulations above 30cm.
There should be some quality skiing and boarding to be had during this period, even though visibility will be reduced at times by falling snow and fresh winds. Sunday will be the best day for fair weather skiers, with easing snow falls and winds.
Weather conditions for the South Island may take a turn for the worse on Monday, with stronger winds, milder temperatures and the risk of rain due to the approach of yet another cold front from the west. This front may bring another burst of snow into Tuesday, but it's probably worth getting your snow fix this weekend if you can.
Check back in every Wednesday for Alex's weekly forecast.