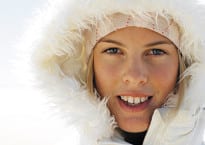 We took your Facebook questions to Torah Bright in Thredbo and she answered them. on video.
If you didn't know that Torah Bright had left Perisher in favour of Thredbo this year then, well, welcome back.  She did, and in true Torah style did it with a smile.
So we asked our Miss Snow It All Facebook fans to fire some questions at her so we could take them down to Thredbo and ask the laydee herself. Again, in true Torah style she answered them with another smile.
Did your Facebook question make the cut?
Check out our Torah Bright 2.0 interview where she reveals why Olympic silver is more than enough despite the naysayers, what she's doing next and how she has coped with the last two years of personal turmoil and come out with, you guessed it, a smile.
Join our conversation on Facebook, Twitter and Instagram