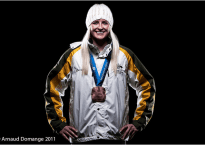 Australia has an impressive winter paralympic medal history and our nation's athletes hope to add to the medal tally in Sochi.
We have some pretty bad ass Paralympic skiers in our country. The legendary Michael Milton, leg amputee, remains an inspiration for our athletes heading into the Sochi Paralympics in three days time. Milton won six gold, three silver and two bronze Paralympic medals in alpine skiing during his Paralympic career and will be in Sochi cheering the team on as assistant coach.
The Winter Paralympics consists of five main sports – alpine skiing, nordic skiing, snowboard cross, ice sledge hockey and wheelchair curling.  Australia will compete in alpine skiing and snowboard cross which debuts at the Sochi Paralympic Games. Athletes are classified as either vision impaired, standing or sitting with sub categories within these three streams.
We have a team of nine athletes supported by two sighted guides and fifteen staff including coaches, physios, comms, ski technicians and more.  This is our highest ever contingent of female Winter Paralympians at a games with four female athletes competing. Prior to 2014 Emily Jansen was the first female Winter Paralympian in 2006 and then Jess Gallagher (also competing at Sochi) and Melissa Perrine represented Australia in Vancouver in 2010.
The youngest Aussie athlete is Ben Tudhope, who is competing in snowboard cross at the tender age of fourteen. His fellow competitor, Trent Milton, also competing in boarder cross is forty one years of age.
Jessica Gallagher is the only member of the Team to have competed at both a Summer and Winter Paralympic Games. She won bronze in slalom in Vancouver 2010 and was a competitor in London in long jump and javelin.
Gallagher is a big hope for Australia, currently ranked world number one in slalom, she may be the one to break Australia's gold medal drought since 2002. Mitchell Gourley, also ranked world number one but in Giant Slalom, may make that two golds for Australia. No pressure guys!
Bookmark this page as we bring you news, views and opinions on the Winter Paralympic Games in Sochi from March 7 to 17.
Home page photo credit of Jess Gallagher: Arnaud Domange
Follow us on Facebook and twitter @misssnowitall
---