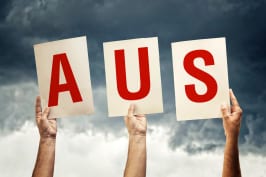 Winter snowsports are high risk sports. You don't risk your life swimming laps or sprinting the hundred metres.
Australia had big hopes going into the Sochi Olympics with gold medals being touted by powers that be to the press. Then 'Sochi happened' with pre games terrorism, Olympic pressure, mid games politics and feuding between the OWIA and athlete parents, then there was the weather, the balmy weather and spring snow conditions and even torrential rain.
Yet still our Australian Olympians, remember them, the ones that slogged their guts out to get to the games, well they copped whatever was thrown at them on the ground and in the media and went in smiling.
They came out with a record fifteen top ten results, six more than we achieved in Vancouver.The goal now in Korea is top fifteen in the medal tally.
Not that you need a medal to prove you are a champion in our books, we can count sixty right here, each for different reasons.
Aimee Watson – her and her brother Callum are the first brother/sister duo to compete in Cross Country at the same Olympic Games.
Alex Chumpy Pullin – the two time world champion went in under enormous pressure as gold medal favourite in boarder cross and was humble in defeat more concerned with the fans than himself "I'm bummed that it didn't go my way and I couldn't give people a better show" he said.
Alex Ferlazzo – the man trains on a luge board on wheels on outback roads in tropical Far North Queensland, he should win gold for that alone.
Alexai Almoukov – produced the best ever result for an Australian male Olympian in biathlon.
Amy Sheehan – chose to ski  the halfpipe for Australia while brother Lyndon chose to ski for New Zealand. She made the halfpipe final and finished in the top ten. The best result from an Australian in the debut event to date (I know, I know, but we're taking it).
Anna Segal – first Australian to compete in the debut event of ski slopestyle at the Olympics. Competed with a torn ACL and a massive head cold and still came fourth narrowly missing bronze.
Anton Grimus – shaved his bush ranger beard for team mate Scott Kneller's Jindabyne Youth Foundation in memory of Scott's father, Rob, who passed away last April.
Astrid Radjenovic – three time Olympian and responsible for both of Australia's best all time results in bobsleigh at an Olympics, 14th in 2006 and 14th in 2014.
Belle Brockhoff – came out on the world stage prior to the Sochi Olympics as gay and became our most succesful boardercross Olympian at Sochi, 8th in women's boardercross.
Brendan Kerry – Kerry is trained by his mum who competed in the 88 Calgary Olympics in ice dancing. That's now two Olympians in one family, right there.
Britt Cox – the 19 year old became the first Australian woman to finish in the top five in moguls skiing at an Olympics
Brodie Summers – narrowly missed top ten, knocked out by defending Olympic Champion Alex Bilodeau in the last run in Final 1.
Brooklee Han – a mere eighteen years of age and competing for her country at the Olympics in figure skating. She finished top twenty.
Callum Watson – he and his sister Aimee are the first brother/sister to compete for Australia in cross country at the same games.
Cam Bolton – blew everyone away as the last Australian standing in the men's boardercross before breaking his wrist in the Semi Finals and then still went on to compete in the Small Final. Oh, and earmarked by American talk show host and comedian, Jimmy Fallon.
Dale Begg Smith – straight talking Begg Smith copped it on the chin, literally, and was humble in defeat "it is what it is and there wasn't much I could do when I was on my face."
Dani O'Brien  – one half of our Ice Dancing pair, Dani is a six time Australian Ice Dance champion and the most decorated in Australian history. Her and Greg Merriman achieved a season's best score and a season's best performance at Sochi and went on to qualify for the free skating element.
Dani Scott – The youngest athlete to ever be offered a scholarship at the Australian Olympic Institute when she was a seven year old gymnast.  She qualified for Finals 1 at the women's aerials in Sochi.
Daniel Greig – There's always a heart breaking story in an Olympics, for Australians Greig was it. He fell shortly out of the start of his 500metre speed skating race cutting short an Olympic dream. His vulnerability moved millions.
David Morris – Silver Medalist and first Australian male to win a medal in aerials at any Winter Olympics. He is Australia's flag bearer at the closing ceremony. Oh and his family rocked too.
Davina Williams – gutsy to the max. Fell in halfpipe training just before competition, smashing her face and head and decided to compete regardless. Finished 15th.
Deanna Lockett – smashed her personal best in the 1000 metre short track speed skating in Sochi.
Dominic Demschar – he had to sit out Super G due to a bad back and then competed valiantly in Slalom and Giant Slalom in his debut Olympics.
Duncan Harvey – former national hurdler, Sochi was Harvey's second Olympics after Vancouver. He competed in both the two man and four man bobsleigh.
Emily Bamford – the Olympic debutante put bush fires in Australia near her family farm aside and secured 50th in her Giant Slalom and 41st in Slalom.
Esther Bottomley – Became the first female athlete to compete for Australia in three Olympic games.
Gareth Nichols – Australia showed they could compete on a bobsleigh world stage at Sochi, Nichol's first Olympics. He is a former life saving beach sprinter.
Gregg Merriman – one half of our Ice Dancing pair, Gregg is a six time Australian Ice Dance champion and the most decorated in Australian history. He and Dani O'Brien  achieved a season's best score and a season's best performance at Sochi and went on to qualify for the free skating element.
Greta Small – The eighteen year old had a massive Olympics, racing in every Women's Alpine Event, five events in all. The most events from any Australian athlete at Sochi. She secured a 15th place in the Super Combined and 29th in the Downhill.
Hannah Trigger – twenty six years of age, two full knee reconstructions, four broken collar bones, three scaffold bone fractures and four serious concussions meant Trigger missed snowboarding in the 2006 and 2010 games, she finally made it to Sochi and competed in the halfpipe alongside Torah Bright.
Heath Spence – Spence piloted Australia's male bobsleigh two man and four man teams at Sochi.
Holly Crawford – the two time Olympian and former FIS World Champion competed with a fractured wrist and cracked ribs in the snowboard halfpipe. Gutsy.
Jana Pittman – first female Australian to compete at both Summer and Winter Games and her and her bobsleigh partner, Astrid, equaled Australia's best of 14th position at an Olympics.
Jarryd Hughes – this was eighteen year old Hughes first Olympics and he progressed through to the quarter finals of boarder cross before being hit by another racer and knocked out of the race.
Jenny Owens – Sochi was Owens third and final Olympics.  She skied her last race in the quarter finals and finished twelfth overall in skier cross. Henry, her lifelong mascot, may or may not retire after this games.
John Farrow – Farrow became the most successful male Australian in skeleton at an Olympics, finishing 17th overall.
Katya Crema – 7th place in Skier X put Katya firmly in the top ten and the most successful Australian female skier cross athlete at an Olympics as well as equal best with Scott Kneller who placed 7th in Vancouver 2010
Kent Callister – finished 9th in the halfpipe snowboard final competing alongside Shaun White. Another top ten placing for Australia.
Laura Peel – finished 7th in womens aerials, firmly in the top ten.
Lavinia Chrystal – this Olympic debutante alpine racer's best results at Sochi were a 40th in giant slalom and a 32nd in slalom in challenging conditions with many not finishing.
Lucas Mata – a member of Australia's bobsleigh team, the only nation from the Southern Hemisphere in bobsleigh at Sochi, Mata is a former state level sprinter.
Lucy Chaffer – Sochi was her first Olympics and the former netballer and water polo competitor finished 17th in the skeleton.
Lucy Glanville – Australia hasn't had a female biathlon athlete at the Olympics since Nagano in 1998.  Glanville went into the 7.5km sprint the lowest ranked athlete and managed to improve by two placings.
Lydia Lassila – Bronze medalist in women's aerials at Sochi to match her gold from Vancouver. She also became the first woman to land a quad twisting triple somersault, which she did in training at Sochi and then became the first woman to attempt a quad twisting triple in competition.
Matt Graham – Nineteen year old Matt Graham endured the agony of missing a moguls Olympic final by 0.01 seconds in his first Olympics.
Michelle Steele – this is Steele's second Olympics after Torino in 2006 and she finished 12th in the skeleton at Sochi.
Nate Johnstone – the former World Champion snowboarder made it to the semis and just missed out on finals by one spot. He has stayed on in Sochi and cheered on his fellow Olympic team mates at as many events as he can.

Nicole Parks – the debutante Olympian placed 15th in moguls and did it grinning from ear to ear.
Phillip Bellingham – he and his cross country team mate, Callum Watson, finished twelfth in the semi finals of Cross Country team sprint in their first Olympic games

Pierre Boda – the short track skater endured a harrowing best of three skate off in December when he and his teammate Andy Jung were equally placed on WC qualifications. Boda won two out of three and headed to Sochi. The highlight of competing for him? "It was especially good knowing that Australia was watching."
Ross Peraudo – Peraudo is the only Australian male ranked inside the top 200 in the world for Slalom.
Russ Henshaw – pretty much competed without an ACL in either knee and in extreme pain. Made the finals and finished eighth in the top ten.
Sam Hall – Hall competes in moguls and this was his first Olympics after narrowly missing out on Vancouver and then taking a year off with knee injuries.
Samantha Wells – the aerial skier just missed out on women's aerial final in her debut Olympics by 0.29 point
Sami Kennedy Sim – ten months after a stroke that sent her to hospital and rehab Sami competed at her first Winter Olympics. Go Sami!
Scott Kneller – broke his back in December, competed in Sochi in February. Enough said.
Scotty James – at age 19 and in his second Olympics, James secured 16th in slopestyle and 21st in halfpipe.
Steph Magiros – sporting green and gold feather hair extensions, gold makeup and a million watt smile, Magiros debuted at the Olympics and made it, alongside Torah, to the semi finals of snowboard halfpipe.
Taylah O'Neill – qualified for the Moguls finals and finished sixteenth overall. Sochi was her first Olympics.
Torah Bright – first Winter Olympic snowboarder to compete in three events – slopestyle, boarder cross and halfpipe. Won Silver in halfpipe despite not training for two months prior. Spoke her mind AND kept smiling, the world can learn a lot from Torah Bright.
Who was your favourite Olympian at Sochi and why?
Follow us on Facebook and Twitter @misssnowitall