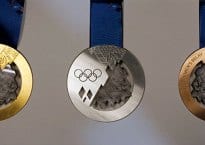 Australia already exceeding targets reports Natalie Peters from Sochi.
Half way into the Sochi Olympics, the Australian team is already exceeding targets. Chef de Mission Ian Chesterman has outlined our performance so far, at a media conference with bronze medalist Lydia Lassila.
He says eight days in, we already have snowboarding silver and aerials bronze, when our best total from previous Games is three medals.
On top of those medals Australia has two top-five performances, when the previous best was one. There are another top-eight places, when the previous best was three. And nine other top 16 performances, double the previous best.
Overall, 16 Aussie athletes have placed in the top 16 – exceeding any other Winter Games to date.
Chesterman says it showcases the depth we have across many Winter sports.
Medal court:
Gold – 0
Silver – 1
Bronze – 1
Australia = 21st on the medal tally
The goal going into Sochi for the Australian team was to secure a top fifteen position on the overall medal tally. Just over halfway and we may still have a chance to secure that too.
AUSSIES COMPETING IN SOCHI THIS WEEK
Boarder cross womens and mens where we have Torah Bright, Belle Brockhoff, Alex Chumpy Pullin, Cam Bolton and Jarryd Hughes competing with some serious medal chances.
David Morris is a medal contender for Australia in mens aerials.
Ski halfpipe women with Amy Sheehan and Davina Williams and Ski  Cross men and women with five athletes competing for Australia – Scott Kneller, Anton Grimus, Jenny Owens, Katya Crema and Sami Kennedy Sim.
Greta Small, Lavinia Chrystal and Emily Bamford compete in Alpine disciplines this week as does Ross Peraudo and Dominic Demschar.
Callum Watson and Phillip Bellingham will take on more Cross Country events.
Alexia Almoukov and Lucy Glanville will again compete in Biathlon.
The Bobsleigh Men (Heath Spence, Gareth Nichols, Lucas Mata, Duncan Harvey) will take to the stage as will Jana Pittman and Astrid Radjenovic.
Brooklee Han takes to the figure skating ice and Australian ice dancing couple, Dani O'Brien and Greg Merriman will also compete.
Pierra Boda and Deanna Locket compete for Australia in short track speed skating.
For the full list of Aussie competition in Australian local times visit our Aussie guide to who what and when.
Natalie Peters is a broadcaster, journalist, skier and is covering the Olympic Games for 2GB in Sydney where she is Deputy News Director. She is filing exclusive blogs for Snow It All from the ground in Russia. Follow her on twitter @nataliejpeters