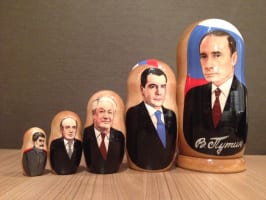 Natalie Peters reviews the best (and worst) of Sochi's Olympic souvenir booty
There's no doubt the perfect Winter Olympic souvenir is a medal. A real, shiny, heavy medal. I'm not picky about the colour either.
But unless your name is Dave, Torah or Lydia, the closest you'll get to that is the $1 dollar chocolate version for sale at the supermarket on the mountain. So while the athletes chased goals of gold, silver and bronze, I embarked on my own Olympic challenge – finding the perfect Sochi 2014 souvenir.
The competition field is fierce. There are official merchandise stores dotted all over the Mountain and Coastal Clusters, along with Bosco shops which stock pricey clothing and copies of the Russian uniforms. The long lines of shoppers herded in and out like cattle are enough to deter you from going twice.
Want your kids to look like mini-Russian athletes? This is the place.
A hat made out of a mascot? They've got it, for around $30.
You can also buy Sochi 2014 products in grocery stores, tacky souvenir shops, and even from road side market stalls.
There are so many options – it will blow your souvenir hunting mind.
Sochi branded ski gear? Yes please.
Warm mittens? Yours for $50.
Want some sunnies with that? Sure.
Feel like a picnic in the snow? Go for it.
Sochi branded chocolates and nuts? They have it.
Want a Sochi dog carry bag so your pooch's paws stay cosy? Done.
How about a tea pot?
Pin traders are again doing a roaring trade in the Olympic City. In fact, some local police officers have been known to pull over drivers under flashing lights, only to ask, "Pin?" One Australian man driving journalists around the mountain said he'd even been pulled over by the same officer twice in one night.
The official Sochi pins are a little expensive at around $20, so my advice is to bring a stack from home and swap away. But maybe don't take it as seriously as this father and son in Sochi, who I also met sporting the same frocks during the London Games.
One thing I have discovered in Russia, is that the quest for souvenir gold requires you think outside the official merchandise square.
I'm a big fan of the kitsch souvenir, and for that reason this is one of my picks of the Games. Who doesn't love Matryoshka dolls? Especially when they're made up as Russian Presidents?
Animal print is big in Sochi – and to begin with I thought these hideously fantastic balaclavas and neck warmers were a joke. But Russian snowboarder Elizavetta Chesnokova rocked one in the half pipe and now I'm sure they're a thing here, meaning they make a great snow fashion souvenir.
Prefer them in your nation's flag? Got them too.
I have enough of the above goods to stuff a second suitcase, but there's one more item which I've crowned the ultimate.
In Vancouver four years ago, red and white maple leaf knitted gloves were the must have, take home item.
The Sochi equivalent is the rainbow coloured pair of gloves issued to all volunteers, available for sale for 500 ruples, or around $15. This is, I believe, the perfect Sochi 2014 souvenir. Instantly recognisable, useable on a cold Sydney or Melbourne commute, and always welcome in the snow.
Plus I think it's ironic the Russian Games have chosen a rainbow theme, given the hoo-ha over the President's stance on gay rights. Every time I see a volunteer wave their hand, I see it as flying the flag for equality.
Natalie Peters is a broadcaster, journalist, skier and is covering the Olympic Games for 2GB in Sydney where she is Deputy News Director. She is filing exclusive blogs for Snow It All from the ground in Russia. Follow her on twitter @nataliejpeters