The USA is having a mega snow season this winter and much of the west is in the midst of a major snow storm cycle.
Over 117 centimetres of snow fell in Squaw and Alpine Meadows overnight and both resorts have announced closure due to extreme avalanche danger. Squaw and Alpine Meadows still have over a metre forecast in the next five days, so this could take a while.
Their friends over at Mammoth Mountain feel their pain after over 3 metres of snow fell in a matter of days last week. Mammoth also had all lifts on hold first thing today (Sunday USA time) due to blizzard conditions but have now opened for skiing and snowboarding in sensational conditions.
But wait, there's more. Mammoth has 175 centimetres of snow still to come in the 10 day forecast ahead. The resort already boasts a 142% average snow base with over five metres.
In Idaho, Sun Valley received 75 centimetres in the last 24 hours and has another 66 centimetres forecast over five days. The resort, which recently announced a partnership with the Epic Pass, is in stellar shape for powder skiing all week.
And in Utah, the snow has not stopped falling. Off the back of last week's snow storm (that played havoc with the FIS World Championship freestyle competition schedule), Utah resorts are set to receive up to 80 centimetres from this new storm cycle.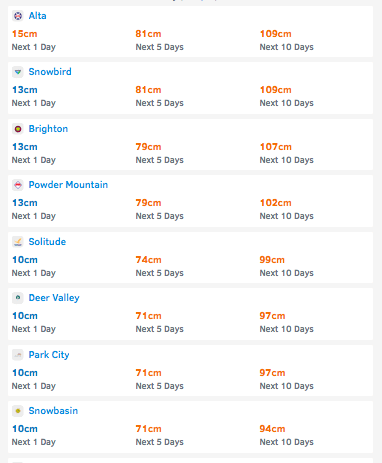 Colorado has between 40 and 80 centimetres forecast over the next 10 days and Jackson and Grand Targhee in Wyoming are expecting up to 80 centimetres in the same time period.