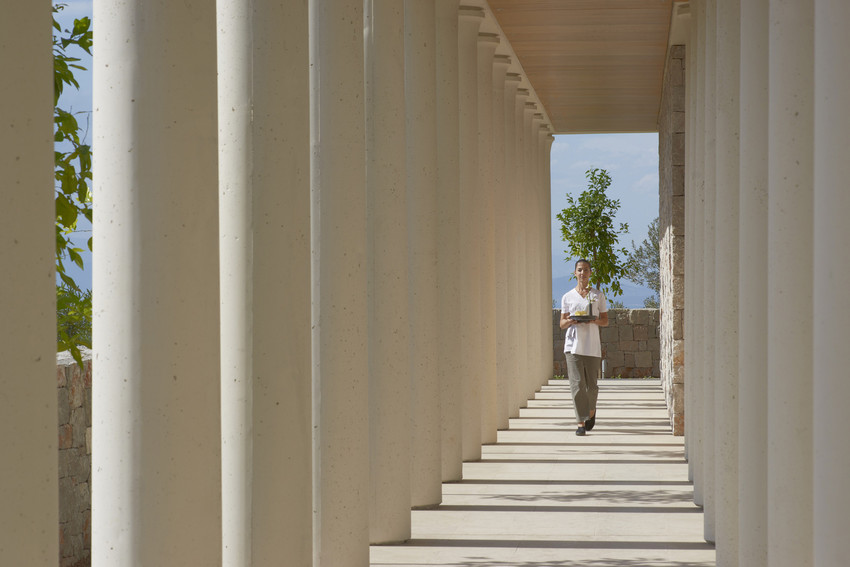 Aman Resorts launch Aman Wellness, individual and group wellness, health, fitness, detox and rejuvenation retreats. The perfect excuse for skiers looking for luxurious downtime.
From the fresh medicinal herbs of Montenegro to the hot springs of Japan, Aman has always delivered a transporting and authentic spa experience, one made all the more profound by the exquisite meditative surroundings and remote locations of its hotels and resorts.
Now, Aman Wellness, a new concept to be introduced across the collection in 2016, promises to reach further and deeper with the dual introduction of its Individual Wellness Immersions, together with a parallel series of date-led Group Retreat Experiences, headed by globally celebrated health specialists, and held at a range of Aman's most outstanding spa destinations.
Drawing on the ancient healing modalities for which Aman spas have become renowned, both the Individual Wellness Immersions and the Group Retreat Experiences seek to take guests through an invigorating process of renewal, designed to ground, purify and deeply nourish. Whatever intentions guests set, whether their goal be a physical objective or the desire for a more spiritual internal shift, Aman Wellness delivers deep transformation, effective results and a meaningful sense of peace and happiness.
Vladislav Doronin, Chairman of Aman, has spearheaded the development of Aman Wellness and says "Wellness is not only related to the physical, but also to the strength of the connection between body and mind. Aman Wellness is designed to achieve a deep level of transformation from the outside in and is inspired and enhanced by the natural and peaceful settings of our resorts. Aman Wellness is about change and seeks to empower guests with the guidance and confidence needed to adopt an all-encompassing holistic lifestyle."
The first Individual Wellness Immersions will launch at Amanpuri and Amanbagh from 1 August 2016, complemented by an ongoing calendar of Group Retreat Experiences taking place throughout the year.
INDIVIDUAL WELLNESS IMMERSIONS
Amanbagh in Rajasthan and Amanpuri in Phuket, Aman's flagship holistic hideaways, provide powerful environments for change with carefully calibrated programmes which balance every aspect of health and wellness. The new Individual Wellness Immersions are based on a personalised routine which includes daily spa treatments, a considered diet or cleanse, suggested exercise and expert advice.
Sensitively curated, programmes range from three to 14-nights at Amanpuri and four to 21-night life turnarounds at Amanbagh. Bespoke to each individual, Amanpuri will offer four different immersions to choose from, depending on participants' desired results; fitness, weight loss, cleanse and awareness. Amanbagh will offer the chance to explore Ayurveda in its homeland, with three different programmes based on India's ancient healing system.
Amanpuri – Fitness, Weight Loss, Cleanse, and Awareness
In one of the most peaceful pockets of Phuket, the tropical realm of Amanpuri offers the ideal natural setting for an immersive retreat, offering a distinct path back to wellness. As well as initial assessments and regular consultations, every day of an Individual Wellness Immersion is personalised to include two to three movement and specialist therapy sessions, a 60/90-minute spa treatment and group movement classes.
Meals reflect the nutritional needs of each guest and aim to stabilise blood sugar levels, reduce inflammation, balance gut flora and support the digestive system. Whether raw, liquid or cooked, allergies and intolerances are catered for and deep cleanses include a regular intake of herbal elixirs, fresh juices and alkalising broth. Detailed lifestyle recommendations ensure the journey continues once guests leave the resort.
Amanpuri's Immersions are based on four different principles. They include the Fitness Immersion, designed by sports therapists and nutrition experts for those who want to improve their fitness levels, and incorporating a wide variety of movement workouts from Muay Thai boxing to beach boot camp classes, circuit training,
Pilates and yoga. Meanwhile the Weight Loss Immersion aims to remove the emotional barriers faced in managing and shifting weight; it includes water-based movement sessions to assist in the reduction of stress and inflammation in the body.
The Cleanse Immersion is ideal for those who want to reduce stress levels and promote self-healing through a pronounced return to internal homeostasis. Finally, the meditative Awareness Immersion is designed for those wishing to tap into their inner realm, heightening awareness and daily mindfulness. Meditation, yoga and silent reflection combine with grounding modalities such as craniosacral therapy, reconnective healing and Reiki to encourage inner stillness.
Amanbagh – Ayurveda
Escape to the whisper-quiet retreat that is Amanbagh, a secret garden oasis set amongst India's rugged Aravalli Hills, to embrace the ancient wisdom and powerful long-term benefits of Ayurveda. Drawing on the ancient healing system of India, Amanbagh's four to 21-night Ayurvedic Immersions offer a unique opportunity to experience what is believed to be the longest surviving complete system of knowledge in the world. Amanbagh's in-house Ayurvedic physician oversees every detail.
Named after the Sanskrit word for 'life', the four day Ayur Immersion programme serves as an introduction to the concepts of Ayurveda with a complete treatment schedule and a dosha-specific Ayurvedic nutritional plan. The more in-depth Purify Immersion helps prevent illness and eliminates toxins for an improved immunity.
Meanwhile the purifying Rejuvenate Immersion harnesses every aspect of Ayurveda's preventative power to improve memory, strengthen the Ayurvedic sense organs (skin/eyes/tongue/nose) and boost physical endurance.
Ayurveda is a spiritual cleansing discipline, providing a gateway to a personal journey of reawakening and the reconnection between the body and mind. Experiencing it in the authentic and sacred atmosphere of Amanbagh and its peaceful gardens only makes it all the more profound. Options for cultural experiences include a sunset 'cow dust' tour of the picturesque villages near Amanbagh, while yoga and meditation will be offered daily in the resort's magnificent gardens.
GROUP RETREAT EXPERIENCES
A calendar of devoted date-led retreats range from three to ten days in length and take place in an atmosphere of active healing at Aman's key spa destinations. Each is unique, yet all have been designed to help bring guests back to balance, into a state of natural equilibrium from which each individual can feel the very best they can be.
Showcasing the skills of globally renowned specialists who work in synergy towards the realisation of the guests' personal goals, the retreats exclusively bring together handpicked contemporary masters of their field, from tai chi masters and spiritual mentors, to sports scientists and nutritionists. Their combined talents deliver a fully comprehensive mental, spiritual and physical overhaul with long-lasting results.
Each retreat integrates a cohesive mix of carefully curated workshops, effective and relaxing treatments, movement and body work, health-giving foods and cultural adventures which draw on the most authentic elements of each location, whether monastery visits or cooking classes.
Amongst the variety of the Group Retreat Experiences will be 'Spiritual Immersion', which will take place at Amankora in Bhutan between 13-21 September. Led by Dr Karma Phuntsho, a Buddhist scholar who will guide a journey both literally and spiritually between the five lodges of Amankora, the retreat will combine cultural adventures with yoga, meditation, spa treatments, and lectures amidst the dramatic landscape of Bhutan.
Aman's three resorts in Bali, Amandari, Amankila and Amanusa will host retreats in August, September and October respectively, all of which will concentrate on Alignment & Awareness, with a focus on mindful living.
Further Group Retreat Experiences include a five day retreat between 1 and 9 October, combining yoga and bodywork to address issues such as low energy and sleep disorders at Amanemu, Aman's onsen-only resort in Shima which launched in March 2016.
Later in the year between 1 and 15 November in Hangzhou, China, Amanfayun will also host a five day retreat focussing on balancing body and mind, reducing stress and chronic pain and achieving overall increased wellbeing.
All Aman Wellness experiences have been designed to encourage a process of release, allowing participants to leave behind negative holding patterns and embrace a strong newness of spirit, whilst taking what they have learnt to give them fresh intentions and the knowledge to adopt a more meaningful and reflective way of living.
For more information on Aman Wellness visit www.aman.com/wellness