I'll never forget the time I saw Jane Fonda in the snow.
I was skiing the glitzy American resort of Deer Valley in Utah, where it's often easier to spot a Hollywood star than a clean line through the giant mogul fields.
Standing out among the coloured Gore-Tex of this season's ski wear, was a woman wearing an incredibly glamorous ankle-length fur (I assume fake) coat. Skis idled against her shoulder; an effortlessly cool arm draped around them.
After rationalising that the fur would surely be fake, I had two thoughts. One: "Oh my god! It's the Academy Award-winning actress and feminist queen Jane Fonda! She looks amazing, how is she nearly 80 now!"
Two: "There's no way she can ski this blizzard in that coat."
Fashion enters snow play
Seemingly opposing worlds of fashion and high-performance skiing collided in Jane Fonda's outfit that day. She was not the first style icon – and she would certainly not be the last – to bring glam Hollywood style to the slopes.
"Ski culture and luxury fashion go back a long way," explains Alexandra Bruce-Smith, Digital Managing Editor of women's beauty and fashion magazine MARIE CLAIRE Australia.
"Karl Lagerfeld [German fashion icon and former creative director of Chanel] debuted ski wear featuring the double 'C' Chanel logo [on the runway] all the way back in 2001. It's not hard to see why: snow sports and luxury fashion are both aspirational, and ski culture has always had a sense of style, both on and off the slopes."
Couture brands Fendi, Louis Vuitton, Miu Miu and Christian Dior also offer skiwear lines. As do Coach, Michael Kors and Isabel Marant, while Saint Laurent have branded skis ($16,500) and a snowboard ($13,500) for those that like to wear their labels on the outside.
In recent years there has been an explosion in the number of premium designer brands entering the skiwear market by teaming up with outdoor performance brands and high-profile snow athletes to create snow-specific winter lines.
Mountainwear-meets-couture is gaining momentum.
Outdoor clothing stalwart The North Face kickstarted the most recent wave when it presented a winter line with Italian fashion house Gucci in 2019. While North Face puffers had long been the go-to choice for Aussie city dwellers when the mercury dropped (for Queenslanders, that's anything less than 20 degrees Celsius), the designer collab took our pandemic-practical street uniform to a whole new, bougie level. Jennifer Lopez, Jodie Turner-Smith, Jared Leto all wore it.
American rapper ASAP Rocky was seen strutting through Harlem in a monogrammed Gucci x North Face jacket that looked more at home in New York nightclubs than on any ski slope.
PRADA is even "outfitting" gaming  snowboarding and skiing characters for Ubisoft's Riders Republic multiplayer sports game.

Now you can wear PRADA in the metaverse when you can't afford PRADA in real life.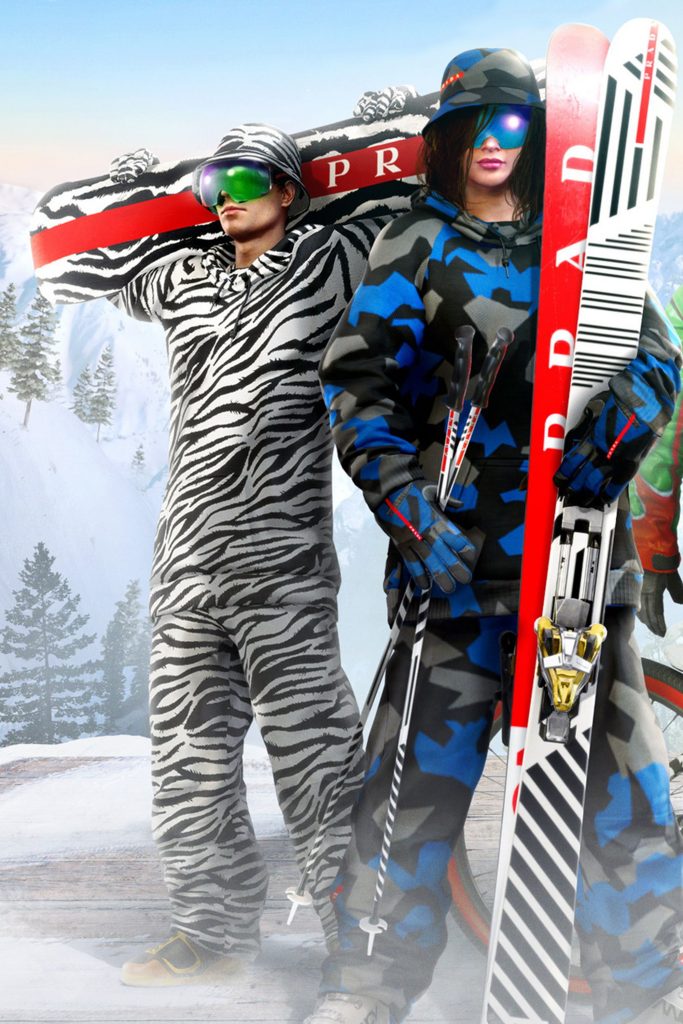 French brand Fusalp – renowned for creating the very first technical stirrup pants for the French ski team in the 1960s – jumped on the bandwagon in 2021 with design powerhouse Chloé. There have been plenty more examples: French haute-couture brand Balmain paired with ski maker Rossignol for a collection; German minimalist Jil Sander partnered with Arc'teryx; LoveShackFancy with Bogner; Italy's famed Colmar outerwear brand with Tokyo's street fashion cred White Mountaineering label and POC collabed with Dior for a helmet and goggles.
You know "farshun" has taken priority when the world's most famous snowboarder, Shaun White, gets in on the couture action. He was first spotted sporting Louis Vuitton on his Instagram in November last year before the luxe French brand revealed a capsule luggage collection that White revealed on his way to the Beijing Olympics.
Meanwhile in the Colorado mountains, glam US ski resort Aspen partnered with Italian brand PRADA for a capsule collection for their own fashion line called ASPEN X, and then PRADA stamped its snow brand by creating a custom snowboard for Julia Marino at the Beijing Olympics.
A move that paid off big time, to start, as Marino won silver on the red and white snowboard in slopestyle (though she was asked to cover the PRADA logo on her helmet during the event). However she was then forced to withdraw from Big Air in Beijing two days later after the IOC then required her to cover the PRADA logo with a marker on the base of her snowboard.
A move that would directly impact the speed of the board that is meant to only support wax.
The money can buy snowsports lifestyle
"It doesn't shock me in the slightest that more lifestyle and fashion brands are partnering with outdoor brands, especially in the ski and snowboard space," says Arc'teryx Brand Manager for Australia and New Zealand, Hayden Stevens.
"One point that is pretty hard to ignore is the elite market in skiing. If you look at the cost of entry to actually ski in Australia, to get on the slopes, it's insane. It stands to reason that the average consumer is going to be of a higher salary and is more likely to be in the market for that high-end gear that is also fashion-forward."
Salary absolutely becomes more important than ski ability when you look at the price labels for this designer-approved snow wear. The cost is in the thousands – at least $3900 for an Arc'teryx x Jil Sander coat. Gucci x North Face puffers start at about $3000. This belted, racing-striped $2300 one-piece ski suit by luxury sports brand Bogner looks epic if you farm cash cows on your ski hills. On the "budget" end (written with irony) is a Gucci x North Face baseball cap for a mere $800.
But if money can buy supreme coolness – not the temperature kind – can it also buy the warmest, most waterproof, crash-resilient gear that holds up in extreme snow conditions?
Just how functional is designer ski wear?
Many North Face faithfuls were horrified to see the label abandon its performance roots for "the Daddy's credit-card brigade" when it brought out the Gucci range. "This is the antithesis of what getting outdoors stands for" one commentor said on Instagram. Another added: "This stuff is just expensive disposable fashion isn't it? No one who can afford this stuff will ever wear it for more than one season."
But something must have worked; Vogue deemed it "stratospherically successful", and The North Face has done two more lines of Gucci each American fall/winter season since.
Stevens says skiwear collabs – like the one between his employer Arc'teryx and Jil Sander – are deliberately made in limited edition numbers to excite people about the brands. The gear is designed to be functional, to a degree, but the key priority is media hype.
"I think it's fair to say the goal is for the line to be completely sold out, ASAP. There's something very temporary and fleeting about a collab – it's a limited release, it launches with fanfare. It sells through to clear the slate, then opening up stock and space for future partnerships," he says.
And it's fair to say some brands prioritise functionality more than others.
Sure, the chic navy, white and blue colour blocks on slim-fitted pants and jacquard capes in the Fusalp x Chloe range look great, transporting those long-limbed models from Paris fashion runways to the French Alps. But it's unclear whether such skinny, cropped-ankle bottoms stay dry on a waist-deep powder day. Meanwhile, the Balmain x Rossignol line looks at home under the sun of an outdoor après ski bar, with its gold-hooped zippers and belted one-pieces, but less likely to hold up for a week at an Alaskan heli-ski lodge.
But does that matter? The purchase of a premium designer label is usually about being seen – indicating the sort of environment those designers have in mind for you to wear it. No one's around to admire your glam outfit in the backcountry, anyway.
"There are some outdoor settings that are lower risk for fashion and lifestyle brands. I can throw on a T-shirt from Cotton On to go hiking and probably be fine," says Stevens. "But when you get onto the mountains in snow, and in the backcountry, when conditions turn sour you need stuff that actually works. Even fashion-forward consumers understand that."
Arc'teryx, on the performance-inclined end of the scale, has built a reputation on expensive but high-quality outdoor wear. The premium Alpha SV snow jacket is already $1250 without Jil Sander's name on it. The Jil Sander jacket uses a different design pattern, but the same materials as the Alpha SV – a jacket Stevens says he would "wear into the backcountry and trust my life with".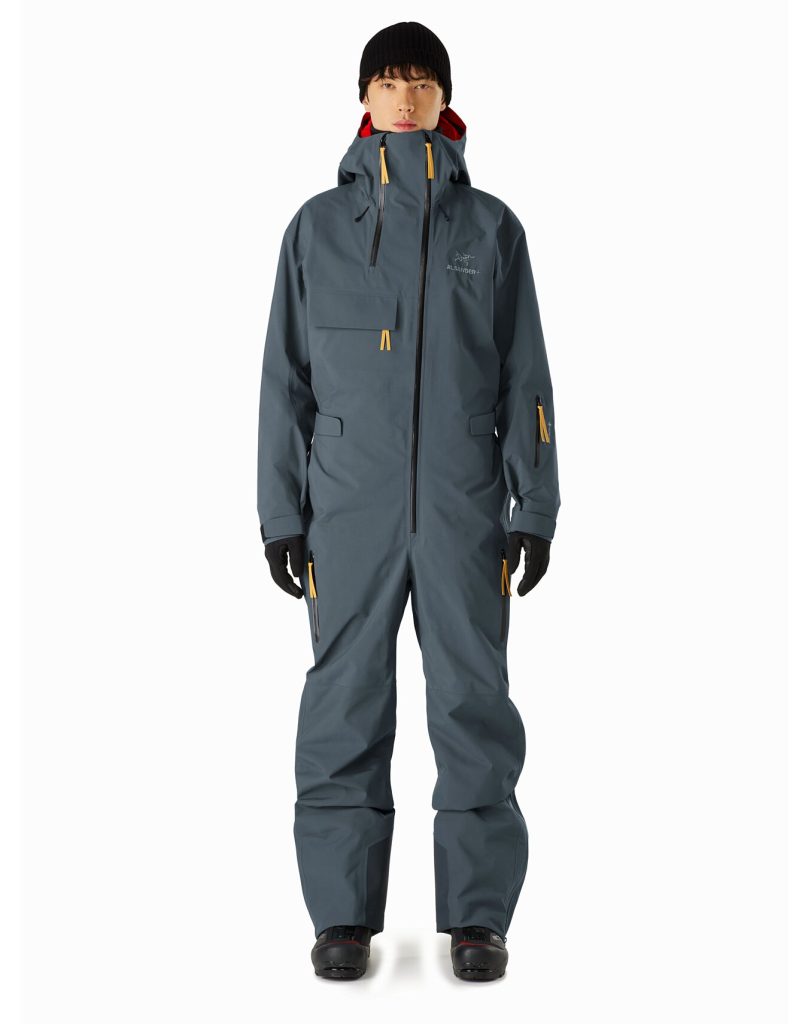 Stevens notes other skiwear collabs create very similar products to the original performance brand's gear. You'll pay a lot for a designer logo – but the gear will be as warm and functional as you would expect from a trusted ski brand.
"No one needs designer goggles to hit the slopes, just like no one needs a designer bag to go to work," says Bruce-Smith. "But for those who do want to invest in something a little more luxury, you're getting more and more options than ever before."
Whether Jane Fonda sent it down the off-piste verticals of Deer Valley in that fur coat, I will never know. What I do know is she looked fabulous while standing at the resort base holding skis. And maybe that's all she needed.