What a time to be alive in Australia right now with all the best hikes from desert to tropics, beach to mountain peak available to trek for days, guided or unguided.
It's nigh on impossible to condense the best hikes on offer, so we've just listed eleven that you can do now, this summer or in the winter of 2021 when temperatures drop in our hottest states.
Whether you're a glamping-by-night, casual-stroll-by-day kind of person, or the kind of hiking junkie that already has their lightweight sleeping bag packed, we've got you covered with the best Aussie hikes for you.
See you on the trails.
Larapinta Trail, Northern Territory
Where: Central Australia, Northern Territory. The trail starts near Alice Springs.
Kilometres: 223km divided into 12 individual sections.
When to do it: Best between May and August, when the temps aren't soaring into the 40s.
How long will it take? You can opt for a day walk, overnight or multi-day. Each of the 12 sections would take about a day to hike.
What to do: If you're looking to be surrounded by vast outback views, broken up by spectacular mountain ranges, gorges and waterholes, the Larapinta Trail is really just one big showcase of everything the Northern Territory has to offer. With transfer operators providing drops/pick ups along most trailheads, it's the perfect choose-your-own adventure for opting for a trek of the optimal length; plus, if you're not one for roughing it, some operators have set up semi-permanent camps with seriously good facilities along the way.
Who can take you: Great Walks of Australia have a six day Classic Larapinta Trek in Comfort hike for those who don't want to rough it, too much. You'll stay in comfortable, exclusive, semi-permanent wilderness campsites complete with hot showers, a large kitchen and a heated dining tent. Walkers even sleep in spacious safari-style tents with thick off-the-ground foam mattresses, large floor-to-ceiling windows and a deck at the front door.
Want to do the full 16 day hike? Trek Larapinta offer an end to end small group guided experience – that's 248kms. You'll carry a day pack and let the team do the rest of the lugging for you.
Wilderness Coast Walk, New South Wales to Victoria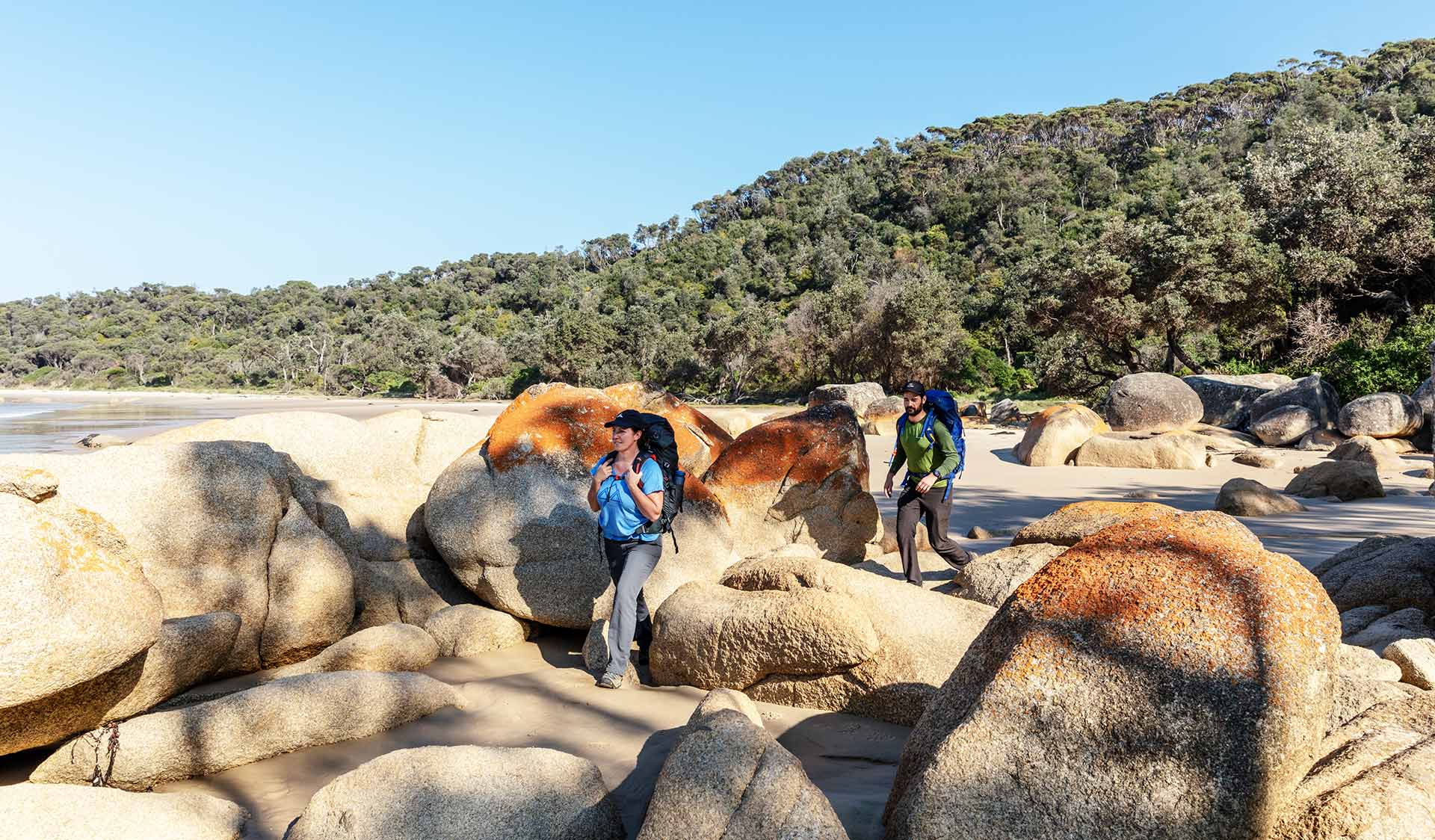 Where: The Wilderness Coast Walk extends from Croajingolong National Park in Victoria to Nadgee Nature Reserve in New South Wales.
Kilometres: 100km divided into three zones.
When to do it: Any time you like!

How long will it take? Up to 10 days to complete, but you can opt to just hike a smaller section, about 14 to 20km. Some areas and campsites are still closed due to the 2019/2020 fires. 

What to do: The Wilderness Coast Walk has its name for a reason. Most of it takes the hiker through declared wilderness area, which essentially means that you'll have to battle fallen trees, river crossings and overgrown trail while treasure-hunting to find the signs along the way. Add a rumoured ghost that haunts the peninsula (former lighthouse keeper Robert Grace Christoferson who drowned in 1947), some of the most incredible beaches you'll ever see and those starlit, middle-of-nowhere skies, and you've found a special kind of wilderness paradise.
Australian Alps Walking Track, VIC, NSW and ACT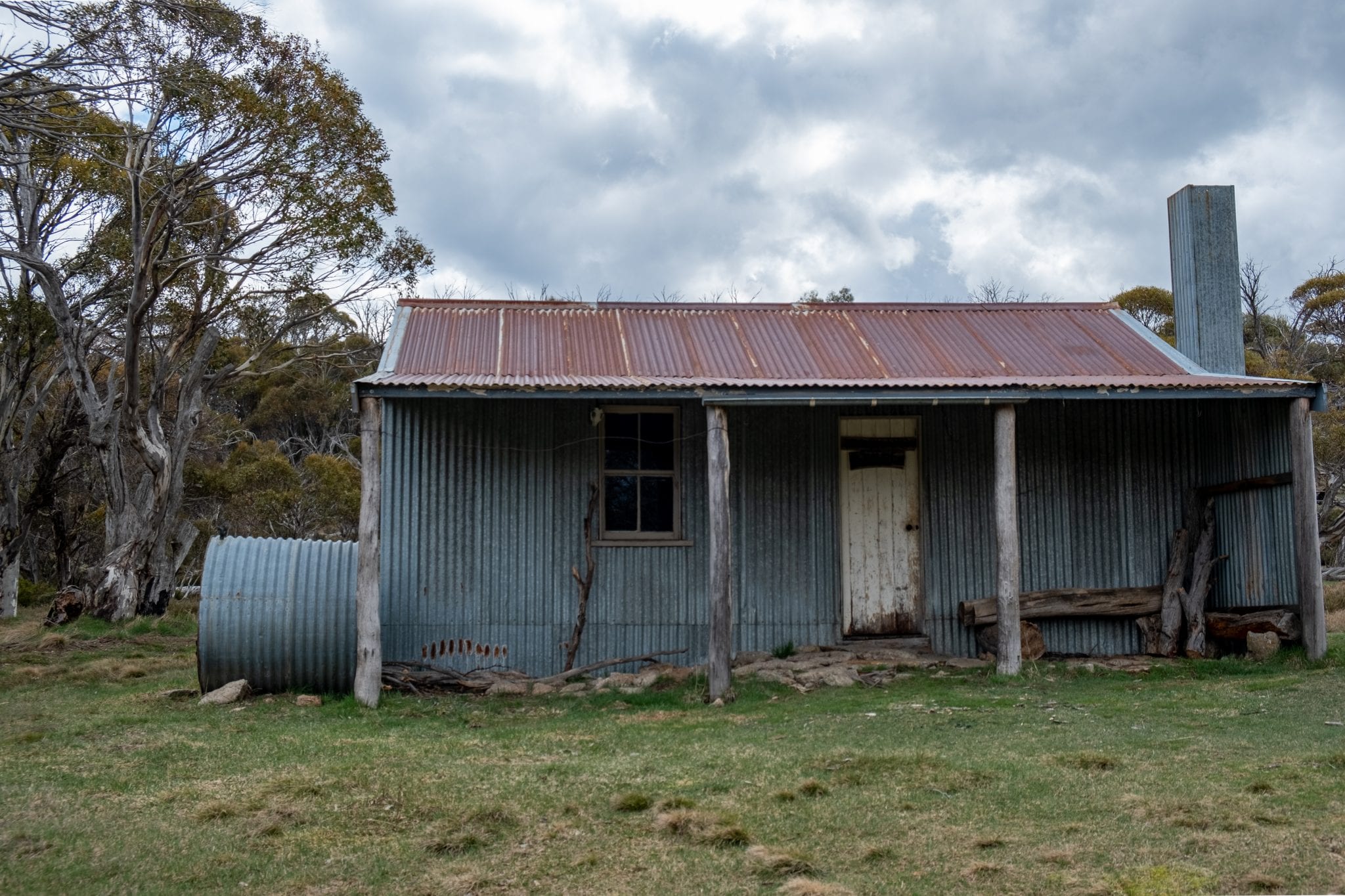 Where: Victoria, New South Wales and the ACT.

Kilometres: 655km
When to do it: It's an alpine area, so the summer months are best.
How long will it take? The entire thing can take up to eight to ten weeks. Many choose to walk shorter sections such as the Baw Baw Plateau, the Bogong High Plains and  the Jagungal Wilderness Area.
What to do: This is a seriously long one, and was the first of its kind, but it's not for the unfit or unsure-about-bushwalking. While it weaves through many a national park, and goes very close to our very own ski resort favourites such as Hotham, Falls Creek, Perisher, Thredbo, Baw Baw and Charlotte's Pass, it's also incredibly remote. Those opting for it should be experienced and used to travelling in remote areas; many hikers drive and secure food caches along the way before beginning their walks. You must carry emergency gear and be prepared for sudden weather changes.
Read up: Anthony Sharwood attempted the trek in the summer of 2019/2020 before bushfires had him airlifted out by helicopter, despite being well prepared. He's written a book, From Snow to Ash, and it's a cracking read that reveals how intrepid and remote this trail can be.
Overland Track, Tasmania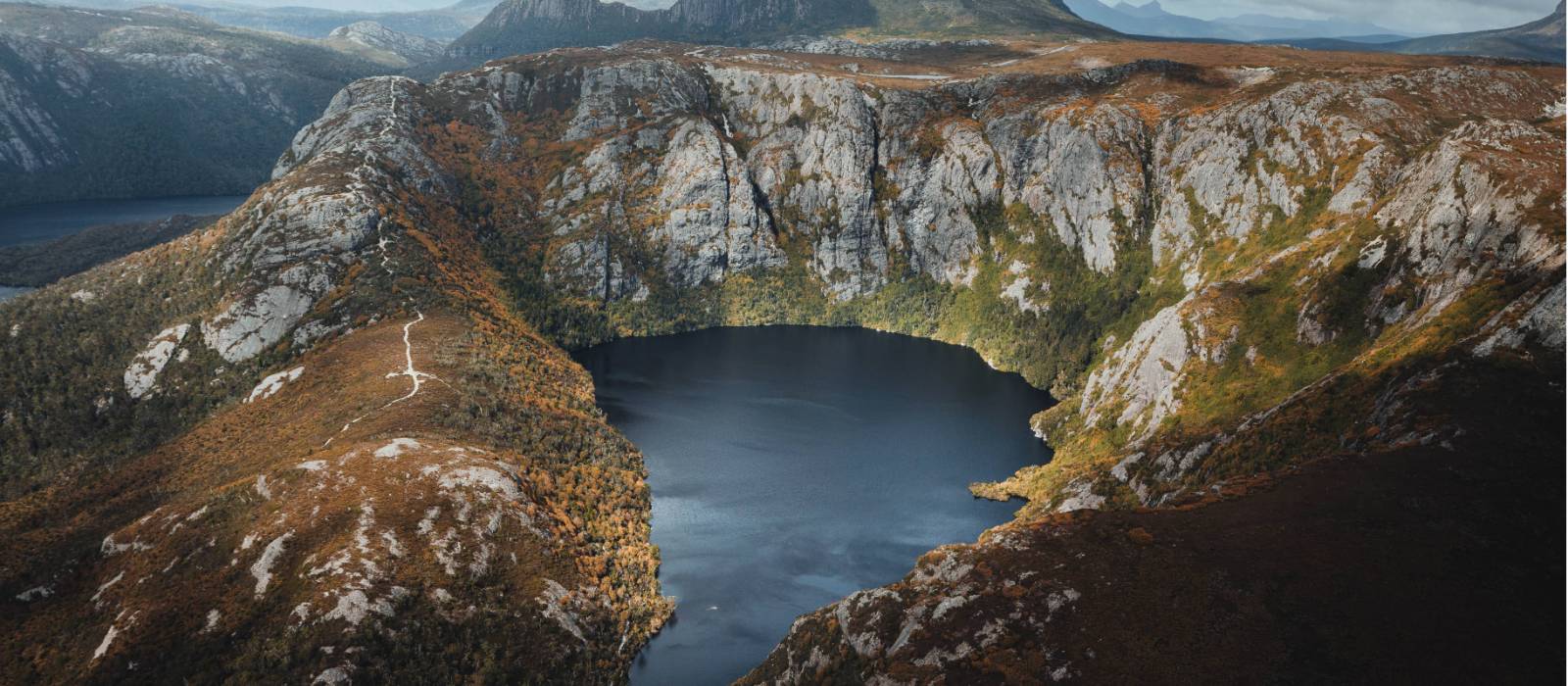 Where: Tasmania, from Cradle Mountain to Lake St Clair.

Kilometres: 65km, one-way.

When to do it: From December through to April – plenty of daylight and, while snow is still possible, it's not so likely.

How long will it take? Six days.
What to do: The most famous hike on this list, and with good reason. This is a challenging trek that is also widely known as one of the best Australia has to offer – and now is the perfect time to experience it, with less tourists likely to be found along the way this year.
Making its way through the Tasmanian Wilderness World Heritage Area, covering off on ancient rainforests, alpine meadows, waterfalls and mountain summits. You can opt for a guided hike with all the amenities, or do it solo if you know what you're doing; just be warned that it's incredibly important to be prepared due to it being so remote, with hypothermia being common, even in the summer.
Who can take you: World Expeditions offer a 6 day 5 night wilderness camping trek of the Overland Track. You'll summit Mt Ossa, explore deep forests, sub-alpine plateaus and spectacular highland landscapes and finish each day's hike with a 3 course meal at camp.
Cape to Cape, Western Australia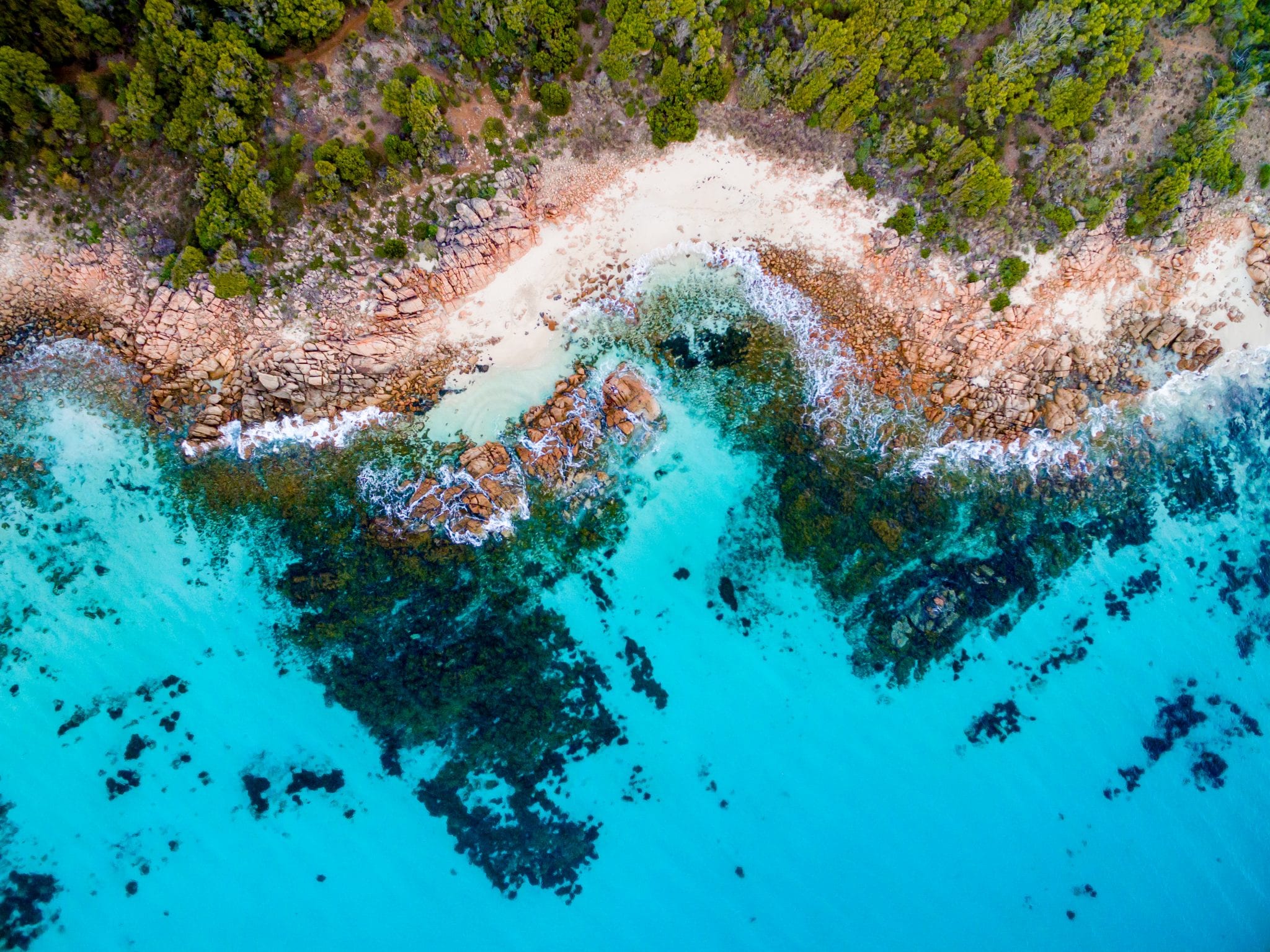 Where: Western Australian, from Cape Naturaliste in Dunsborough to Cape Leeuwin in Augusta.

Kilometres: 140km.

When to do it: From March to May or September through to November; the track is so coastal that there are few trees and therefore not a lot of shade!

How long will it take? Five to six days (although there are plenty of shorter walks also accessible)

What to do: If spectacular coastlines are your thing, this is the hike for you. Enjoy the most incredible landscapes along the Indian Ocean, traversing sandy beaches, limestone clifftops, granite headlands and springtime wildflowers. Possibly the best thing about this hike is that it's located in the Margaret River region, resulting in some fantastic food and beverage options if you're partial to a post-hike wine or three. There are plenty of operators offering luxe accommodation and guided hike options along the way, or run solo and stay at a number of free campsites.
Who can take you: Cape to Cape Explorer tours offer both end to end 8 day treks and 3 and 4 day glamping experiences so you can "rough it" in style.
Arkaba Walk, South Australia
Where: Flinders Ranges, South Australia.
Kilometres: 45km.

When to do it: Walks depart from March through to October.

How long will it take? Four days.

What to do: This is a lush all-inclusive experience through some of the most ancient and stunning walking country in Australia. Think a whole lot of geological history – including 1000-year-old river red gums and cypress pines from long ago, combined with craggy sandstone bluffs and rolling hills. The guided walks feature plenty of stories about the Indigenous inhabitants, explorers and settlers of the land, resulting in you learning a whole lot of secrets about this precious land. There are a variety of all-inclusive accommodation options on offer for all budgets and preferences – all you have to do is choose which one you like best.
Who can take you: Great Walks of Australia give Arkaba walkers guided daily hikes, then sleep out under a million plus stars with hot showers, three course camp dinners with South Australia wines and a final night in an 1850s homestead.
Jatbula Trail, Northern Territory
Where: The Jatbula Trail is in the Northern Territory, beginning at Nitmiluk Gorge and traversing the western edge of the Arnhem Land escarpment before finishing at Leliyn (Edith Falls).
Kilometres: 62km.

When to do it: It's only open during the dry season, from June to September and restricted to 15 hikers a day. Camping is only allowed for one night at each site along the trail. Each camp site is restricted to a maximum of 15 people. You cannot skip to a camp site to complete the trail in less time. It's graded as medium to hard and you'll need to carry a pack with everything you require for the full length of stay.
What to do: There is something so magical about the Top End, and this trail is the opportunity to follow the footsteps of those who have traditionally travelled the land for years. By following an ancient Jawoyn song line through Nitmiluk National Park, you'll see incredible landscapes, from waterfalls to monsoon forests and sandstone plateaus. Be sure to swim in all the crystal-clear pools along the way, check out the Indigenous rock art sites and immerse yourself in the bushland along the way. Limited people are allowed on the trail each day, so check out the booking possibilities with various tour companies to lock in your spot.
Who will take you: World Expeditions offer a guided trek with river crossings, waterfalls, bush walks and more. You'll carry your pack and hike 10 to 17kms per day and bed down in campsites with water sources and natural pools to sink into.
Three Capes Walk, Tasmania
Where: Tasmania Peninsula 

Kilometres: 46kms

When to do it: Year round

How long will it take? Four days.

What to do: Despite the name, the walk features two capes that offer seriously spectacular views – Cape Pillar and Cape Hauy. Expect dolerite spires, some of the world's highest sea cliffs, Port Arthur historical penal settlement, silver gum forests and more. Access numbers are monitored with limited hikers allowed each day and if you're self hiking then you'll need to register and book ahead, take your own food in and sleep in the provided huts which have all the facilities you'll need.
Who will take you:  Great Walks Australia offer access to stay in the national park each night, bedding down in architecturally designed private lodges and trekking 46 kilometres over four days with hot showers, lounge areas to drink in the views and comfy beds to soothe your walking feet.
Thorsborne Trail, Hinchinbrook Island Queensland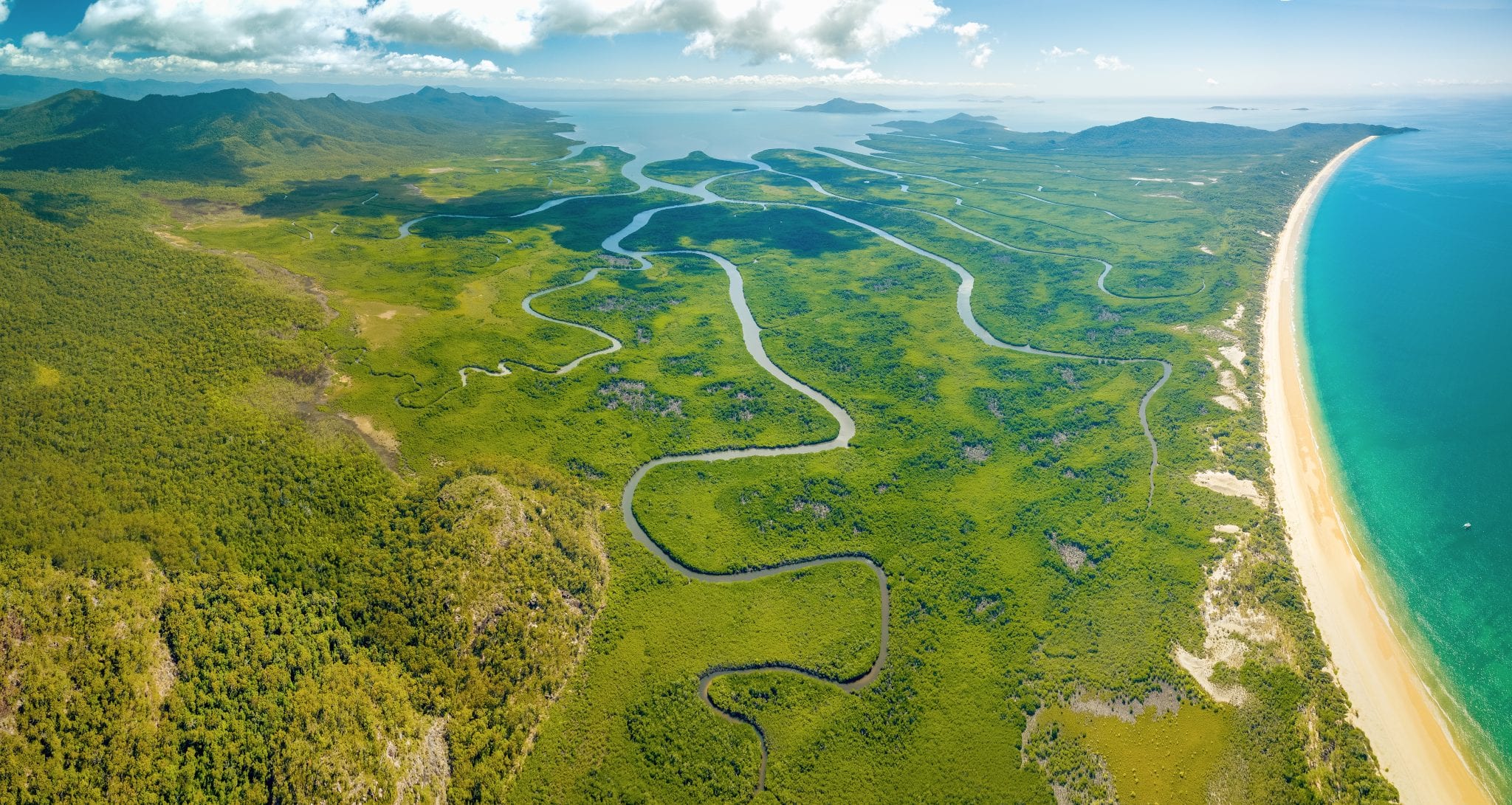 Where: Hinchinbrook Island, 8km off the north Queensland coast.

Kilometres: 32km.

When to do it: From April to September to take advantage of the cooler weather.

How long will it take? Four to six days.

What to do: The Thorsborne trail is truly one of those bucket-list walks that hiking aficionados will gush about, and some claim that it's one of the top walks on the planet. With no facilities or vehicles on the island, only 40 people are allowed at a time to preserve its Jurassic Park-like environment. Featuring 1000m-high mountains covered in clouds, lush rainforest, rocky headlands and plenty of mangroves, the island is within the Great Barrier Reef World Heritage Area – so if you're lucky, you might spot a turtle or a reef shark along the way. Serious planning is essential for this one (this is croc country after all), and the trail can be very rough and challenging, so take your time researching (and training) before you go.
Who will take you: The crew at RAW Travel provide independent hiking support with a detailed hiking guide, 4 days of adventure food, round trip ferry transfers, 4 nights campsite fees and permits, a navigation guide app and pre and post accommodation.
Scenic Rim, Queensland
Where: The Great Dividing Range, Queensland (1.5 hours from Brisbane).

Kilometres: 47km.

When to do it: Between March and November.

How long will it take? Four to five days.

What to do: Hike through the Gondwana Rainforests of Australia World Heritage Area across mountains, ridges, volcanic plateaus and 30,000 hectares of nature refuges, stat forests and national parks. As a brainchild between the Queensland Government and ecotourism operator Spicers Retreats, Hotels and Lodges Pty Ltd (Spicers), you can opt to glamp or stay in luxury in the accommodation offerings along the way.
Choose from a 2, 3, or 5 day all inclusive walk, carrying a day pack while all your gear is transported ahead. The Scenic Rim Trail is the only Queensland Great Walks of Australia trail.
Seven Peaks Walk, Lord Howe Island
Where: Lord Howe Island, New South Wales

Kilometres: 45kms across 7 peaks

When to do it: April and May plus September to November

How long will it take? Five days

What to do: The Seven Peaks Walk is offered by Pinetrees Lodge in association with the Great Walks of Australia and is a 6 night, 5 day guided walk across the World Heritage Listed Island. Climb the islands seven peaks, including the great Mt Gower. If you don't like heights, they'll cater a different walk for specific days, either way you'll get to know the entire islands palm forests, freshwater creeks, volcanic peaks, sea cliffs and coral platforms. Bed down in Pinetrees Lodge luxe accommodation with a beachfront location, the hike is all inclusive with four course dinners and more.