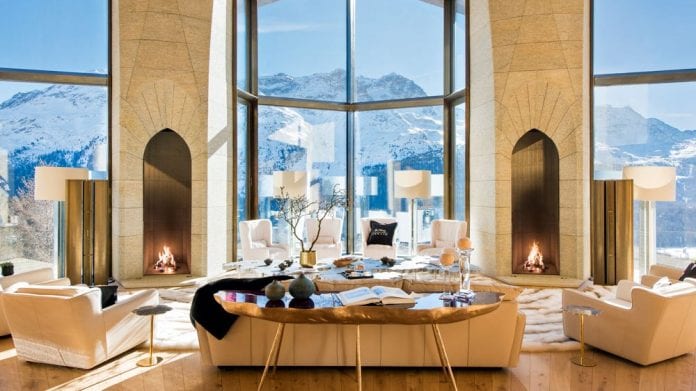 Excuse me while I choke on my diamond encrusted fondue. Someone somewhere has too much money and will be writing a gold encrusted cheque for this Swiss home in St Moritz when that money could be, I don't know, curing cancer or at least buying me an entire ski resort in Canada for $1.7million. 
The US$185 million price tag (AUD $256 million) on this stand alone home in the Engadin valley is more than Vail paid for Perisher. But I guess Perisher doesn't come with 24 karat gold leaf walls, a floor of Scandinavian white fox pelts (thank god) and a wall of mink (why, oh god, why?).
If you did have the cash to spare to lay on this seven story 43 000 square foot home then you'd have a ski in ski out location to a private chairlift from your personal ski annex. Expect the usual dry room and fireplace with a ski valet (you'll have to employ him/her). 
Of course mountain lovers will drool over the 35 foot floor to ceiling window vistas. You and your loved ones will bed down in one of five ensuite bedrooms with cashmere covered walls (again, why?). You'll dine in a breakfast nook with a $145 000 egg sculpture (let's hope it's hard boiled) upon the ceiling. 
There's a red velvet library with hidden office, a ceiling encrusted with 178 Swarovski embedded candles, a wine cellar and cinema.
Did we mention the spa? A Himalayan salt room, a pool and jacuzzi, ice room, sauna and hammer. You can employ a masseuse, maybe they'll know the ski valet?
Oh, and seeing as you'll be no doubt driving a super car signed by a Formula One driver, then you'll need the six car garage.
If you're still interested then reach out to the team at Senada Adzem, if you need to know their contact details then I'm guessing you can't afford it.