Powder skiers in Utah are champing at the bit for first lifts tomorrow (Friday USA time) as big snow storms overnight means big thigh burns for those who score fresh tracks. Never fear, with snow forecast numbers like these below, there will be enough fresh tracks for everyone. Powder panic be gone.
The crew from Powderchasers.com are already on their way in blizzard conditions on the I-80 that look more than promising. 
Meanwhile, the team at Opensnow.com are calling for almost half a metre in 24 hours for Snowbird who already received 28 centimetres in the last 48 hours.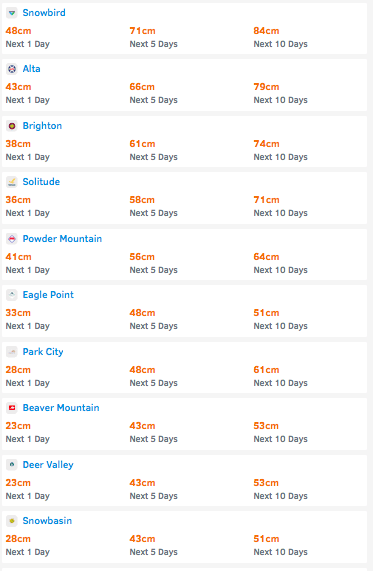 This is going to be the kind of powder storm that Utah has been long known for and one that will relegate last year's dry season to a distant memory. It's not the big numbers of Whistler earlier in the year, but the moisture content will be far less, with super light dry snow that Utah, interior British Columbia and Japan are well known for. 
Safety first
Be warned, though, the Utah Avalanche Centre have issued an avalanche warning in effect from Thursday and over the weekend for backcountry skiers and snowboarders.
More snow on the way
There is also talk of another big storm cycle come January 29 which is no surprise as Sundance Film Festival launches in Park City on January 24 for 10 days and it always snows then.
Athletes at the FIS Freestyle World Championships in Utah from February 1 to 10 will also be rubbing their hands with glee at the prospect of excellent snow conditions.