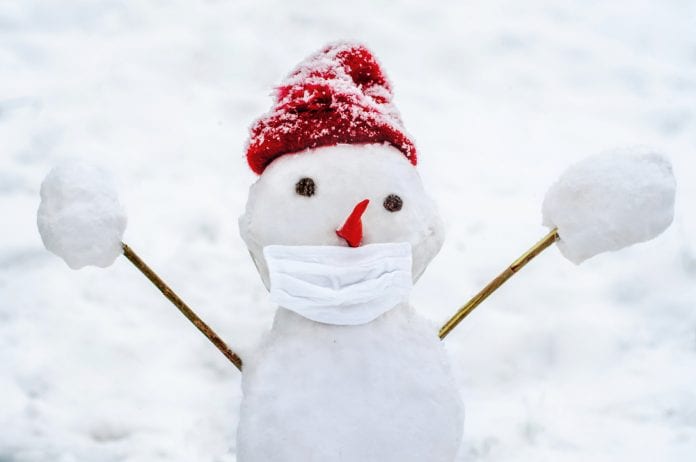 Australians will always remember January 2020 – the peak of the bushfires that made global headlines, claimed loved human lives, wiped out millions of native animals, took people's livelihoods and homes. Fires so ferocious, they left city folk hundreds of miles away with the taste of ash in their coffee.
While our winter athletes were winning FIS World Cup glory with Brockhoff and Coady scoring podiums after injury, Anthony stepping up in the moguls and Michaela Davis Meehan taking on the big mountains of the FIS World Cup tour, Australia's alpine areas were scrambling to survive fire and flame.
Victoria's alpine regions were declared a state of emergency, residents evacuated from Dinner Plain, Hotham and Falls. Jindabyne sent tourists home while Thredbo locals evacuated under blood red skies, an air tanker crashed near Cooma, taking the lives of three American fire fighters with it, and Selwyn Snow Resort burned to the ground.
Come February international ski resorts rallied and joined our Snow Aid Australia auction, serving up over $300,000 worth of ski holidays to raise money to help the bushfire crisis. Thanks to Australia's skiers and snowboarders we were able to present $215,000 of funds to four chosen charities as the dust slowly settled. But not for long.
By March talk of fires turned to talk of a pandemic and every day brought news of more overseas resorts closing down for the season. The rest of the year, as they say, is history, or so we hope as we head into 2021 'cos lord knows we can't do more of the same.
We're all more than tired and emotional at the end of a year that, quite frankly, has reached into the heart of many, ripped it from within their ribs and thrown those hearts through a shredder. Alpine businesses collapsed, those who didn't need JobKeeper got it, and those that did need it didn't; the country was divided between the tin foil hats and the Karens and those who continued to post their fortuitous lives on social media oblivious to those truly hurting.
Seriously, how can 12 months feel like a decade?
Of course there were some highlights and we've listed them below amongst some not-so-highlights, in no particular order. And no, we haven't mentioned the lift pass internet meltdowns because we're all still traumatised.
Laura Peel's Crystal Globe
In early March, Laura Peel won the FIS World Cup coveted Crystal Globe, the first time an Australian aerial skier has done so since Lydia Lassila in 2009. With two gold, a silver and a bronze in the 2019/2020 season the globe was hers for the taking.
Scotty James became king, again
James took both the FIS World Cup Crystal Globe for snowboard halfpipe and the overall Crystal Globe for Freestyle snowboarding. Oh and the X Games and Dew Tour gold medals, just because.
Aspen 5 or was that 13?
It was no secret in Aspen that a bunch of Australians from Melbourne's heady social echelon heights had got the rona back in March. It was also no secret that some of them were refusing to stay within the quarantine walls of their slopeside residences. Then it was no secret they flew home and mingled some more.
The trans Tasman bubble – a modern fairytale
The rumours swirled, then they swirled some more, then they went silent, then they swirled again, then they were shut down, then shut down tight, then the swirling started again. Either way, we didn't get to ski or snowboard in New Zealand. Maybe next year?
Alice Robinson wins Giant Slalom FIS World Cup gold
New Zealand (and Australia) got excited when 18 year old Aussie born, Kiwi bred Alice Robinson from Queenstown won FIS World Cup GOLD in the Giant Slalom in Slovenia in February. This was her second FIS World Cup gold after beating Mikaela Shiffrin in Solden in 2019.
Australia's first Winter Olympic water ramp training facility
Brisbane became the mecca for aerial and mogul skiers as the new water ramp facility finally opened for training in October. Now known as the Geoff Henke Olympic Winter Training Centre it has provided much needed world class facilities for Australia's medal winning Winter Olympians. No more yabbies in the creek.
Iso skiing fun
While Aussie and Kiwi skiers and boarders in lockdown fretted over whether there would even be a southern ski season, we challenged them to "ski and board at home".  Our Iso Skiing videos kept us all laughing as humans went above and beyond with creativity, even featuring on The Project with Peter Helliar.
Mt Buller – reading the room right
The surprise reader of the room in 2020 was Mt Buller. Not only did they do everything possible to ensure they stayed open as long as they could, they also put their season pass holders first. Season holders were guaranteed skiing and snowboarding and those holiday makers that had already pre booked accommodation were also given priority in the lift ticketing.
Then when the season all turned to slush, they kept the resort going within the restrictions to the last hour and even offered season pass holders a private ski day as thanks when they reopened for a nano second. THEN they offered all season pass holders full or partial refunds, giving the holder the option to choose how much they got refunded, even if they skied all 44 days. Unheard of.
Australia's first Youth Winter Olympics Gold Medal
History was made in Lausanne earlier in the year as Aussie snowboarder Josie Baff won Australia's first ever Winter Youth Olympic Games gold. The Jindabyne local scored first place podium in the Snowboard Cross. She claimed gold in a dramatic Big Final, edging out silver medal winner Margaux Herpin of France by just 0.05 seconds, with local Swiss favourite Anouk Doerig in third.
With all the wins there were losses, some that our community may never recover from in a year that was already more than tough.
Vale Alex Chumpy Pullin and Ekaterina Alexandrovskaya
2020 was particularly hard for Australian skiers and snowboarders as we lost two loved Winter Olympians, snowboarder Alex Chumpy Pullin and figure skater Ekaterina Alexandrovskaya.
No words can do justice to the grief felt by so many as 32 year old Pullin, a three time Winter Olympian, died in a spear fishing accident on the Gold Coast in the peak of his years. An Olympian, a FIS World Champion, a Crystal Globe winner, a surfer, a musician, an ambassador and king of the kids. He retired this year to focus on the Snow Australia athlete pathway Turn and Burn camps where kids are coached to become champions. Because he believed in his sport and he believed in Australia's talent.
Russian born skater, Alexandrovskaya, represented Australia at the PyeongChang Winter Olympics in 2018 with skating partner Harley Windsor, Australia's first indigenous athlete to compete at a Winter Olympics. Together they claimed two Australian titles, gold at the World Junior Championships in 2017 and won the Junior Grand Prix Final in Nagoya, also in 2017 – the first champions from Australia ever. She died in Moscow, mere weeks after Pullin.
May they rest in peace and pow.
To top the year off a third loved Winter Olympian, Steve Lee, suffered and survived a debilitating stroke. He's lived, thankfully, to tell the tale and is in serious rehab with the support of a close knit ski community.
Now, 2020, be gone.