In 15 years the 'aroma' of Japanese snow has gone from a far-off frontier powder dream to  an accessible, affordable option. Despite this, few have ventured away from the most popular resorts of Hokkaido or Nagano to the powder secrets beyond.
But it's here, away from the lift lines of Hakuba and Niseko, where frontier skiing can still be found, if you're willing. For powder seeking foreigners, the road north is the less travelled and for some a journey in itself.
The great white north of Japan's Tohoku Region on the main island of Honshu is home to the mountain region of Hachimantai and the ski resorts of Appi Kogen and Amihori Onsen in the Iwate Prefecture.
The region has long held a special place in the Japanese mindset as a place of spirituality and imagination and is becoming a predicted hot spot for Australian powder seekers.
Appi Kogen, Japan
'Appi' means "a place where one can live in peace" though the few foreigners that have been here consistently refer to the resort as "happy Appi."
You'll find the Appi Kogen resort near the Towada Hachimantai National Park some 580km from Tokyo. It's accessible in just over three and a half hours by shinkansen and local trains.
At a latitude of 40° north, Appi's snow quality is exceptional by Honshu (and comparable to the famous Hokkaido) standards, with an abundance of light dry powder. Snow storms here gather ferocity across the Sea of Japan and pass over the Ou mountain range before descending upon the resort, like most of the Honshu and Hokkaido resorts powder is expected rather than hoped for.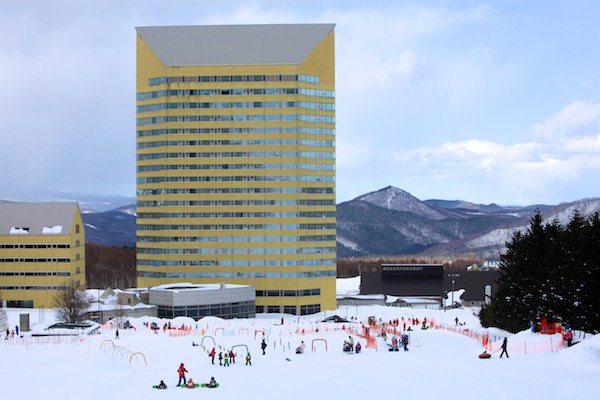 Appi is not the traditional layout of Nozawa or Zao Onsen, nor the diluted, westernised Japan of Niseko or Hakuba. It's a resort built at the height of Japanese confidence in the late 20th century, and still a favourite of Japanese snowsports enthusiasts. The concept resort hails straight from the Japan economic boom era of the 1980's, largely the brainchild of Japanese designer Yusaku Kamakura whose widely regarded as the most influential Japanese graphic designer in history.
Kamekura created the visual identity for the 1964 Tokyo Olympics and hundreds of uncompromisingly beautiful corporate identities (Nikon, TDK & Shell amongst others).   His vision is at the forefront with the colours used to differentiate the various lift buildings and ski zones.
Expect canary yellows, chalky salmon pinks, lime greens and sky blues against a backdrop of deep white snow – trust me, this works better when getting your ski bearings than any directional signage. The multi-storey blade-like form of the 78 metre high Hotel Appi Grand main building, is a constant visual reference point from just about anywhere on the mountain.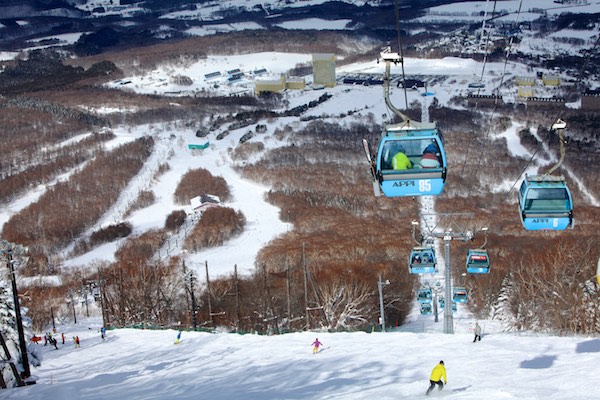 Austrian ski racer and actor Toni Sailer, a three-time Gold medal Olympic Champion was enlisted in the ski resorts layout and design. The runs in his name are the best in the resort and feature everything you'd hope for from wide ungroomed powder runs with pitch to bumps and manicured corduroy pistes.
The bells and whistles are all here with ski-in ski-out access, superb in-resort dining options and twenty minutes by car to the nearby Hachimantai city for side trips to experience local Izakayas and onsens.
Amihari Onsen, Japan
An hour's drive away from Appi, sits the no frills resort of old world Amihari Onsen. Giant snowbanks welcome you to this powder haven of the north but don't expect high speed quads chair to whisk you up the mountain.
All you'll need is pocket money to enjoy this hidden gem.
The ¥2500 ($29AUD) mid-week lift pass buys you a virtual private resort experience on a three chairlift 710m vertical offering. Amihari Onsen has decent piste with a rolling pitch and pockets of powder. The backcountry options are plentiful here too.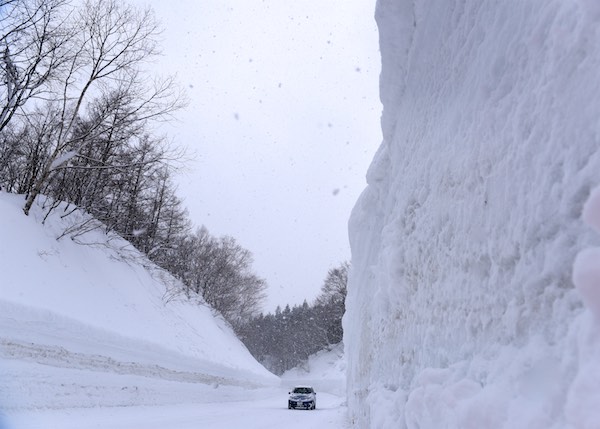 I enlisted the help of Kiyo-san, a softly spoken ski guide who doubles as a barber in Morioka running a business called 'Barber Idol Mountain Climbing Team'. You could ski powder with him all day then ask for a trim on short back and sides.
After several tasty laps in bounds we headed outside the resort for deep powder. This is where Amihari Onsen excels. The powder hunters delight of knee deep untracked powder in well spaced trees.
At the resort base is the ski in ski out Kyukamura Iwate Amihari Onsen Hotel. It's a traditional Japanese Onsen where wearing a Yukata and eating Keiseki are the norm. The onsen spa completes the package to soak tired muscles. You might also be the only foreigner in the building which for some could be liberating.
Don't expect this to last though as word gets out, so get in while you can still be the only westerners on the slopes. Then add another nearby four ski resorts (Shizukuishi, Shimokua, Panorama and Iwate Kogen) to your travel plans and thank us later.
Check out our Japan SnowsBest pages for more on skiing in Japan.